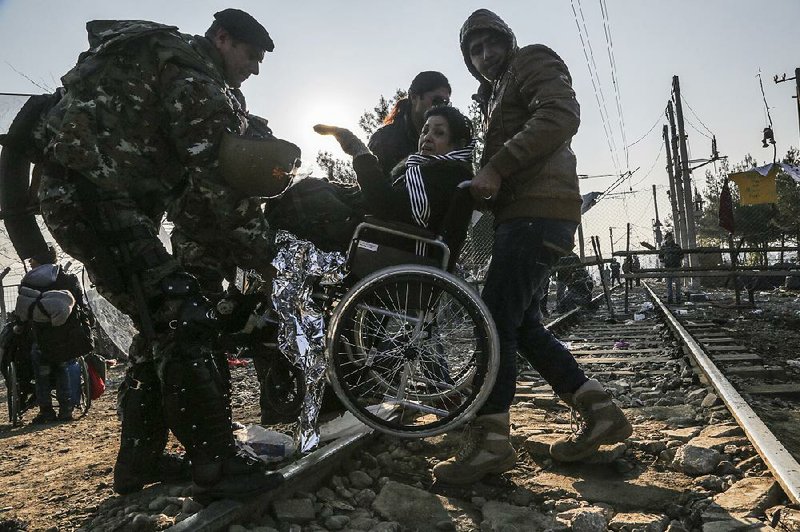 Macedonian border police move a migrant who crossed over from Greece on Saturday near the Macedonian town of Gevgelija. Macedonia is allowing entry only to people from Afghanistan, Iraq and Syria. - Photo by AP / VISAR KRYEZIU
BRUSSELS -- European countries are sharpening measures to stop the flow of migrants as security concerns rise after the Paris attacks last month.
Greece last week finally agreed to hand over partial control of its frontiers to an EU border agency, after facing heavy criticism for months that it was not doing enough to screen the more than 700,000 asylum seekers who have arrived on Greek shores this year.
The debate over stricter controls on refugees and migrants has exposed deep divisions in Europe -- where the 28 EU member states are divided over balancing humanitarian and security concerns. Those frictions have increased after revelations that two of the assailants in last month's Paris attacks arrived by the migrant trail.
European governments have been trying to pressure Greece to do more to secure its borders, as thousands more asylum seekers wash up every day. Greek authorities have struggled to perform cursory security screenings on the arrivals. Many do not have passports or other identification.
"There are a certain number of improvements that need to be done," said European Commission spokesman Margaritis Schinas ahead of meetings focused on European border security.
New steps agreed upon Friday will strengthen screenings, but the process will remain much weaker than in the United States and Britain, which investigate individual asylum seekers for months.
European interior ministers also gave preliminary approval to a new database to track the movements of airline passengers, a step that had been under discussion since 2007.
EU leaders pledged earlier this year to build special reception centers on Greece's islands to improve screening. But the new centers have not yet been completed, and they were designed to organize the distribution of the asylum seekers across Europe, not to perform rigorous security screenings. Tough screenings do take place when migrants reach destination countries and claim asylum.
In Belgium, migrants go through four screenings after lodging their claims, but asylum systems are so overwhelmed that it can take weeks to do so.
In the rain-drenched line outside the main immigration office in the Belgian capital, Brussels, Mohammed Abdeddaim, a 31-year-old Syrian Palestinian, was still trying to lodge his asylum case after arriving from Syria three weeks ago. He was told to return in another two weeks and feared the request is an effort to discourage him from staying.
"When I talk to the people, I don't see a problem," Abdeddaim said. "But when I hear what the politicians are saying, it sounds like they think we are crazy terrorists."
Belgian authorities say they are not trying to deter asylum seekers but simply don't have the capacity.
Abdeddaim left his family behind in Syria because the journey has now become so perilous -- not just the stormy sea crossing but also as Balkan countries including Macedonia impose tighter border controls. The number of migrants reaching Europe by sea dipped to 140,000 in November, down from 220,000 a month earlier after the crackdowns and worsening weather.
Other European leaders have been so alarmed by Greece's handling of the migrants that several countries initiated quiet discussions to exclude Greece from Europe's borderless zone, which enables people to travel within the continent without showing passports.
"Information and intelligence sharing is a problem in Europe," said Dimitris Avramopoulos, the European commissioner for Migration, Home Affairs and Citizenship. "To keep secrets today is a very naive approach."
The security gaps have sparked a debate within Europe about how to respond. Germany, which has opened its doors wide to asylum seekers, has pushed for other nations to do more to take in migrants. But a growing chorus of politicians from other nations is pushing for significantly tighter border controls.
"In order to have free internal borders, we need functioning external border protection, and it is falling short," German Interior Minister Thomas de Maiziere said.
A Section on 12/06/2015
Print Headline: EU taking tougher steps to stem migrant inrush
Sponsor Content
Comments