FAYETTEVILLE -- Tontitown had its Grape Festival, and Benton County had its fair -- now it's Washington County's turn.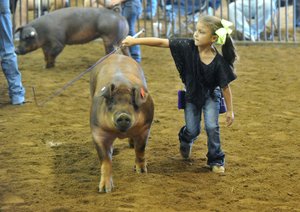 Photo by Michael Woods
Cale Jones, 6, leads her swine around the ring during the swine judging Saturday at the Washington County Fairgrounds.
The 158th Washington County Fair formally begins Tuesday and runs through Saturday, bringing the traditional slate of carnival rides, craft and livestock competitions and deep-fried fair food as summer winds down. An army of volunteers thousands strong is preparing for more than 25,000 people to turn out, said Natalie Bartholomew, the fair board's secretary.
At A Glance
Washington County Fair Schedule
The front gates open 10 a.m. Tuesday through Saturday at 2536 N. McConnell Ave. in Fayetteville. Gate tickets are $5.
Tuesday
• Two Dollar Tuesday Night: $2 gate ticket and $2 rides with a canned food donation
Wednesday
• School Day: Students admitted free through 3 p.m.
Thursday
• Senior Citizen Day: Anyone 62 or older admitted free 10 a.m. to 5 p.m.
• 6:30 p.m.: 4-H and FFA Livestock Auction, Livestock Arena
Friday
• Midnight Madness: Carnival open until 2 a.m., $20 armband for all rides starting 10 p.m.
Saturday
• Sizzling Saturday: Carnival open until 2 a.m., $20 armband for all rides starting 10 p.m.
Source: Washington County Fair
"I think our timing is absolutely on point, and I'm hoping, crossing my fingers, that the weather's going to continue to stay cooler," she said last week. "We have a lot of excitement built around the fair this year."
The fair's still going strong after so many years because of the volunteers, the location near Interstate 49 and Garland Avenue and a county full of enthusiastic participants for the long run, Bartholomew said. Several competitions last year had to be shuffled to different buildings with more space because they were "bursting at the seams," she said.
"What that tells me is this tradition is alive and well," she added. "That's a good problem."
Among the hundreds of kids planning to show off their pigs, goats and cows is Ella Kraft, 10, a member of the Lucky Clovers 4-H Club who's been showing goats as long as she can remember.
"They kind of grow on you," Ella said with understatement one June afternoon as she tended to a small flock of bleating goats at her grandmother's barn east of Fayetteville. She hugged and kissed the animals on their foreheads while feeding the little ones from a bottle as they wagged stubby tails and climbed over each other. Ella looked over the group with the cool and appraising air of one used to the commotion.
"They need attention, lots of it," she said, guessing about an hour and a half at least needed to be devoted each day to the goats, which have names like Brownie and Laffy Taffy. One of the older goats, Sunrise Sweetie, gave birth to quadruplets this year, unusually high for goats.
Wendy Walker, Ella's maternal grandmother, said her family started raising goats decades ago because their meat and milk were easier on her children's stomachs than beef and cow milk. The kids started raising and showing them competitively soon after, she said. Ella's goats are descendants of some raised by Walker's son, Blake, who passed away in 2013.
"For me, it would be difficult to come out to an empty barn," Walker said, her voice shaking slightly. "They're calming."
Ella plans on showing half a dozen goats at this fair, including some of the quadruplets. The past few days she's been clipping and trimming their dark fur so they look their best, and she said she's both nervous and excited. If any are a champion in their level, Ella could show them during the fair's junior auction Thursday evening.
"We just need to review the showmanship techniques and stuff," Walker said.
Besides the auction, the fair includes tractor and lawnmower pulls on Friday and Sunday and livestock shows throughout the week. The carnival opens at 5 p.m. each day but Saturday, when it opens at noon. Friday and Saturday nights the rides are set to keep going until 2 a.m. or so.
"If there's a really good crowd, they're going to continue to go until that crowd diminishes," Bartholomew, the board secretary, said with a laugh.
NW News on 08/31/2015