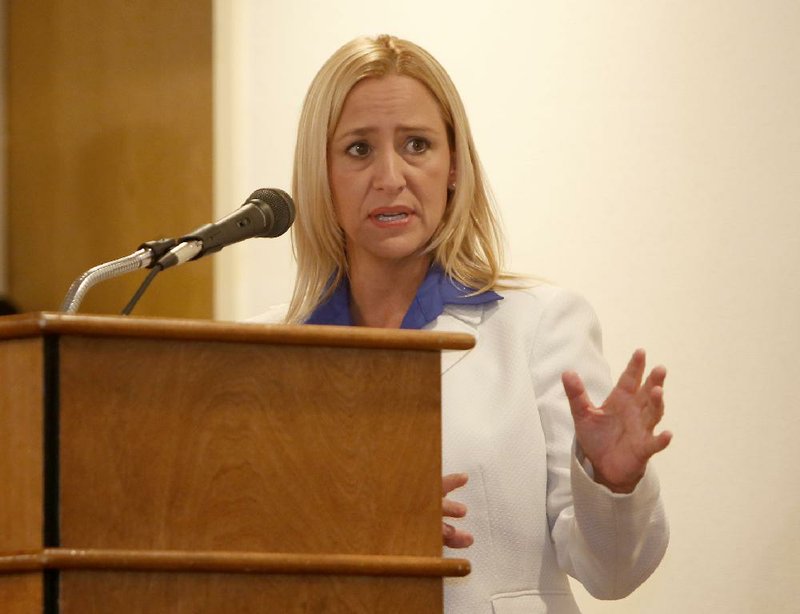 Arkansas Attorney General Leslie Rutledge is shown in this file photo. - Photo by David Gottschalk
A federal judge approved a $5.07 million settlement between Exxon Mobil and the federal and state governments Wednesday, ending a lawsuit filed more than two years ago after the company's Pegasus pipeline ruptured and spilled tens of thousands of gallons of heavy crude oil into a Mayflower neighborhood.
MAYFLOWER OIL SPILL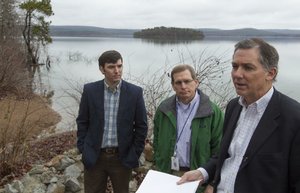 Photo by Benjamin Krain
Central Arkansas Water spokesman John Tynan, left, is shown with Congressman French Hill, right, and Central Arkansas Water administrator Robert Hart, center, touring an area of the Lake Maumelle watershed which supplies drinking water to 400,000 Arkansas residents.
In addition to monetary penalties, the consent decree includes new safety measures, most notably that Exxon Mobil must treat the roughly 650-mile northern section of the pipeline as susceptible to seam failure -- the cause of the March 29, 2013, accident in Mayflower's Northwoods neighborhood.
That step will mean more stringent regulations and "hopefully ... more proactive" monitoring by the federal Pipeline and Hazardous Materials Safety Administration, according to the Justice Department.
U.S. District Judge Kristine Baker's decision called the decree "fair, reasonable, and adequate, and consistent with the Clean Water Act."
The Justice Department and the Arkansas attorney general welcomed the settlement. Central Arkansas Water, which oversees Lake Maumelle, expressed disappointment but plans to continue working to protect the drinking-water supply for more than 400,000 residents.
Justice Department spokesman Wyn Hornbuckle issued a statement calling the settlement "good for public health and the environment of Mayflower, a community that was so disastrously impacted by this oil spill."
"It will also help prevent future disasters by requiring better pipeline safety and response measures," he said.
A Texas laboratory examined the broken pipe segment shortly after the rupture in Mayflower and said it found cracks that were more than a foot long in the longitudinal seam and that had been present since the line was manufactured in 1947-48 or shortly thereafter.
A now-defunct Ohio company manufactured the metal used in the Pegasus -- a kind no longer made.
"While certainly not perfect, this settlement secured a State civil penalty of $1 million -- a historic dollar amount for an Arkansas settlement regarding air and water violations," Arkansas Attorney General Leslie Rutledge said.
That money will allow the Arkansas Department of Environmental Quality to supplement funds available to address emergency actions, she said.
"Unfortunately, no legal document, dollar amount or additional safety regulations can take away the heartache of those impacted by this spill in the Mayflower community," Rutledge added in an emailed statement.
The thick oil flowed through the Northwoods neighborhood and drainage ditches and into a cove of Lake Conway. Many residents had to evacuate their homes for months. Some never returned to live there. Exxon Mobil ultimately demolished three of the houses because of oil beneath their foundations and also has bought numerous other homes from the original owners.
Rutledge said, "ExxonMobil was responsible for the damage to the environment and for disrupting lives of Arkansans; however, the State must have a better preparedness and enforcement plan to protect Arkansans. I am committed to working with the Governor, General Assembly and our federal delegation to make that happen."
The decree calls for the subsidiaries to pay $3.19 million in federal civil penalties. The companies are to pay $1 million in state civil penalties; $600,000 for a project to improve water quality at Lake Conway, a popular fishing spot; and $280,000 to the Arkansas attorney general's office for the state's legal costs.
These penalties are in addition to what Exxon Mobil has already reimbursed federal and state agencies for cleanup efforts and to any fines the Pipeline and Hazardous Materials Safety Administration may order.
The oil giant has appealed the safety administration's proposed fines totaling $2,659,200 for nine "probable" violations of safety regulations.
In June 2013, U.S. Attorney Christopher Thyer and Arkansas' attorney general then, Dustin McDaniel, sued Exxon Mobil Corp. subsidiaries Exxon Mobil Pipeline Co. and Mobil Pipe Line Co. That case led to Wednesday's ruling. Other lawsuits by private individuals and businesses, however, continue.
Central Arkansas Water spokesman John Tynan said Wednesday that the utility "was hoping for a different outcome."
"We had hoped" for "a stronger consent decree ... and that Judge Baker would have rejected it or at the very least would have waited to finalize it when the [the safety administration] findings are complete," Tynan said.
The utility will "continue to pursue all those other options," including "continued dialogue" with Exxon Mobil, Tynan said. The utility also retains other options, including the right to sue the oil giant if necessary, he said.
But "given that a restart appears to be years off, I think it's premature to say" whether the utility will sue, Tynan said.
Because the underground pipeline runs through about 13.5 miles of Lake Maumelle's watershed, Central Arkansas Water has sought -- so far unsuccessfully -- to get the line relocated or permanently closed. The northern section of the line -- which runs through parts of Arkansas, Texas, Missouri and Illinois -- has been shut down since the accident.
Only the 211-mile southern section, all in Texas, has resumed service, and Exxon Mobil has said it has no plans to file a revised work plan for the northern section of the Pegasus this year -- a necessary precursor to a restart.
Exxon Mobil spokesman Christian Flathman said, "We appreciate final resolution on this matter and acceptance of the terms of the settlement, which was mutually agreed to by the U.S. Department of Justice, the U.S. [Environmental Protection Agency], and the State of Arkansas."
A Section on 08/13/2015
Print Headline: Exxon settlement OK'd
Sponsor Content
Comments