Entergy Arkansas is proposing a phaseout of coal usage at its 1,700-megawatt White Bluff coal plant in Redfield as part of adhering to the U.S. Environmental Protection Agency's draft plan for the state's compliance with visibility rules established in 1999, utility officials informed the agency Friday.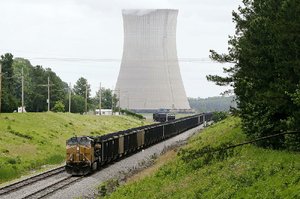 Photo by DANNY JOHNSTON / AP
A coal train stops at the White Bluff power plant near Redfield for a delivery in June 2014. Coalfired power plants across the country have been closing rapidly in the past decade, and Entergy Arkansas announced Friday a proposal to close the 1,700-megawatt White Bluff plant by 2028 to comply with federal clean-air rules.
Company officials estimate they're facing a $1.1 billion cost of compliance with the Regional Haze Rule -- passed by Congress 16 years ago as a part of the Clean Air Act -- if they don't cease using coal at the plant.
They've proposed closing the first unit in 2027 and the second in 2028, earlier than the previously expected lifetime of the facility, which is estimated to last into the early 2030s.
"There's just too much uncertainty today for us to spend $1 billion on [emissions-reducing] scrubbers," President and CEO Hugh McDonald said Friday from an Entergy Arkansas conference room in Simmons Tower Building. "That would be the absolute worst decision for customers."
Switching to increasingly popular options such as natural gas, solar and wind power could be cheaper for the company -- and potentially ratepayers -- but exactly how much Entergy Arkansas would invest in those energy sources is yet to be determined.
While the announcement is a step in the constant planning process for Entergy Arkansas officials, it is also welcome news for environmentalists, who have lobbied for changes to the scrubberless White Bluff plant and investment in renewable energy.
"I congratulate them on making the right decision here," said Glen Hooks, director of the Arkansas chapter of the Sierra Club. "This is a big step for an Arkansas utility."
Entergy Arkansas is the principal owner -- 57 percent -- of the White Bluff plant. The Arkansas Electric Cooperative Corp. owns 35 percent, and the cities of Jonesboro, Conway and West Memphis own the remaining 8 percent.
"While on the one hand you can't justify the investment of the billion dollars, it's also sad not to be able to get the full life out of the plant that your members and ratepayers have paid for and continue to pay for," said Sandra Byrd, Arkansas Electric Cooperative Corp.'s vice president for public affairs and member services.
Closing the coal plant in favor of natural gas, renewables or a combination of the two would reduce emissions related to haze, along with providing a significant reduction in carbon dioxide emissions, which are the target of the final EPA Clean Power Plan unveiled Monday.
The Regional Haze Rule targets visibility at certain national wildlife and recreation areas by mandating lower sulfur dioxide and nitrogen oxide emissions at facilities determined to be large contributors to haze, such as coal plants.
Haze occurs when light passes through particles that absorb light rather than spread it, including sulfates, nitrates, organic carbon, black carbon and windblown soil.
Visibility has improved at these sites over the years, but state and federal implementation plans for reducing regional haze are a part of the process of meeting certain goals by 2064.
The Regional Haze Rule for Arkansas targets pollution at the Caney Creek and Upper Buffalo River wilderness areas and two spots in Missouri: the Hercules-Glades Wilderness Area and the Mingo National Wildlife Refuge.
When Caney Creek and the Upper Buffalo River last were measured for haze, they came in at 26.36 deciviews and 26.27 deciviews, respectively. The EPA goal is to reduce haze to 11.58 deciviews for Caney Creek and 11.57 deciviews for the Upper Buffalo by 2064 by reducing sulfur dioxide and nitrogen oxide levels.
The EPA estimates that the White Bluff plant contributes 3.323 deciviews of haze to Caney Creek, 2.325 to Upper Buffalo, 2.101 to Hercules-Glades and 1.79 to Mingo.
Entergy Arkansas' proposal aligns with decisions made in other states to comply with the Regional Haze Plan, including two in its own EPA Region: Oklahoma and New Mexico.
Public Service Co. of Oklahoma has opted to shut down its more than 950-megawatt coal plant in two shifts by 2026 and has entered purchase agreements for 250 megawatts of natural gas and 600 megawatts of wind. Cheap wind prices caused the company to invest in three times the amount of wind it had initially planned for.
Oklahoma Gas and Electric has alternatively opted for converting two units at its Muskogee plant to natural gas and retrofitting two units in Red Rock with scrubbers. The utility is proposing before the Oklahoma Corporation Commission to spend $700 million on environmental upgrades.
Public Service Co. of New Mexico reached an agreement with the state and EPA to shut down two of its four units at its San Juan coal plant in lieu of spending millions of dollars on retrofitting them.
"We've made the best out of the situation, and we think we've positioned ourselves very well to respond to the EPA Clean Power Plan," said Ryan Flynn, secretary of New Mexico's Department of Environmental Quality.
Coal plants across the country have been rapidly closing in the past decade, coinciding with a successful national Sierra Club campaign to oppose them called Beyond Coal. The Beyond Coal campaign keeps a ticker on its website that now advertises 200 plants retired and 323 to go. Additional federal regulations have pressured their closure.
From Entergy Arkansas' perspective, the White Bluff plant -- along with the rest of the company's facilities -- is constantly being analyzed as it relates to energy prices, future regulations and long-term viability.
Employees can normally see the White Bluff plant from the south-facing side of Entergy's leased office space in the Simmons Tower Building, including through the window of the south-facing 29th-floor conference room.
On Friday, they couldn't.
"It's unusually hazy today," McDonald said, standing from his chair to peer outside. "You can usually see it."
McDonald and other Entergy Arkansas officials said Friday that investment in replacement energy sources and temporary means of lowering sulfur dioxide and nitrogen oxide emissions would take place in the years leading up to the closure of the White Bluff plant's two units by 2028.
Those investments include installing low-nitrogen oxide burners and switching to coal with lower sulfur content, McDonald said. But the cost of purchasing that coal compared with the type now used won't cost that much more, he said.
The larger investments will be in replacement energy, which McDonald said could be natural gas, solar or wind, and would coincide with continued use of the coal plant. That means ratepayers could be paying for both at once, but only if the Arkansas Public Services Commission approves utility bill increases.
Future federal government incentives for alternative energy to coal could play a role in determining future power sources and the cost of them. Incentives proposed to go along with the Clean Power Plan issued Monday to curb carbon dioxide emissions favor solar and wind generation.
Solar and wind generation are less appealing to McDonald because of their position in the electricity grid. Natural gas can work anytime, like coal, he said.
Economists have argued that wind and solar power are most viable when produced in an abundance and stored in an electricity grid that rendered still or cloudy days moot.
The EPA's original March proposal for complying with the Regional Haze Rule advised Entergy to install dry scrubbers for sulfur dioxide and nitrogen oxide at the plant for an estimated cost of $400 million. Company officials believe the cost will be closer to $1.1 billion.
Entergy Arkansas has considered installing scrubbers at White Bluff since 2008 and originally believed they were the right decision. But numerous factors, including other federal regulations, have made scrubbers less appealing.
The EPA's proposal also includes installing the same scrubbers on the similarly sized Independence coal plant in Newark, but Entergy Arkansas' comments submitted Friday continue to object to that plant's inclusion in the proposal. Officials argue that it is not required to be regulated until the next Regional Haze Plan phase-in, the planning for which begins in 2018.
The EPA has argued that including the plant is ideal toward achieving haze goals because of its high amount of uncontrolled emissions.
If the Independence plant is not removed from the plan, Entergy Services Assistant General Counsel Kelly McQueen said, the company would appeal the decision.
Together, the White Bluff and Independence plants contributed 17 percent of the company's 21 million megawatt hours generated in 2014.
The White Bluff plant employs just more than 100 people.
McDonald said jobs would remain but that they would be different in the future.
Hooks, the local director of the Sierra Club, is still lobbying for the inclusion of the Independence plant in the EPA's proposal, hoping it will lead to the plant's eventual closure.
"It makes absolute sense to shut down Independence," he said. "It's going to affect our environmental health and public health in a positive way."
While visibility is the target of the Regional Haze Rule, people have advocated for it locally for health reasons.
The Clean Air Task Force estimated 90 deaths, 60 hospitalizations and 112 heart attacks were related to particulates -- including sulfur dioxide and nitrogen oxide -- in Arkansas in 2012.
Hooks said Entergy Arkansas has been a "semi-responsible" utility when it comes to the environment, as far as utilities go.
He said Arkansas' political leadership and climate were very much opposed to environmental regulations, but Entergy Arkansas has approached them in a much more "nuanced and complex way."
"I think they know what's up," he said, referring to long-term trends toward clean energy.
Metro on 08/08/2015