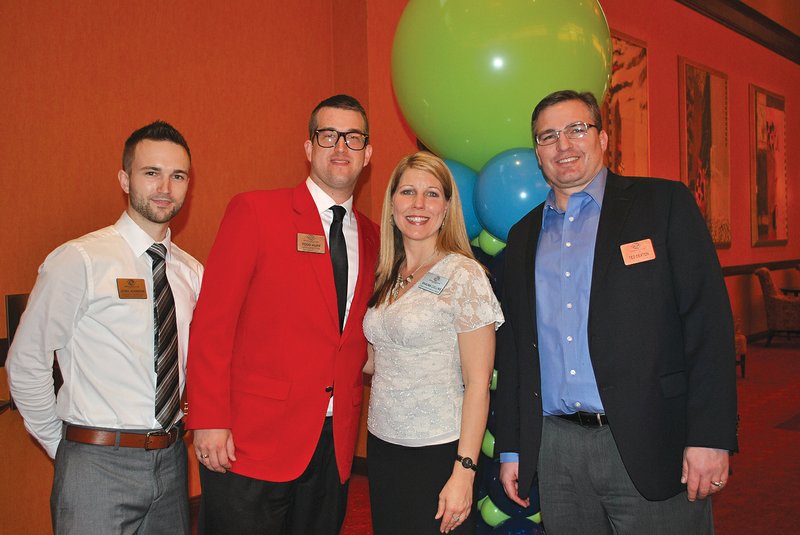 The Boys & Girls Club of Benton County had a big year.
The organization, which "seeks to enable and inspire youth to realize their full potential in a safe and nurturing environment," served more than 3,500 young people in Benton County last year, said Shauna Collins, director of development for the Benton County unit.
Youth of the Year Celebration
Who: Boys and Girls Club of Benton County
What: Each year an outstanding youth is selected from each facility to participate in state competition.
When: April 2, 2015
Upcoming Event: Great Futures Gala, May 1 at the John Q. Hammons Center in Rogers.
Info: bgcbentoncounty.org
"The kids in Benton County need a safe and developmental place to go every day after school and during the summer," she said. "In addition, club members have the opportunity to engage in community service. In 2014, our leadership clubs completed 7,016 hours of community service."
According to Collins, approximately 38 percent of young people in Benton County reported having a "low commitment to school" while 35 percent reported interacting with anti-social peers.
"Boys & Girls Club provides a safe and nurturing environment to mitigate these risks," Collins said. "The club also provides a place for our kids to get active."
According to the club, 81 percent of parents report that their kids are more active since joining the club and 34 percent are more likely to be committed to school. Ninety-nine percent of parents report that their children completed their grade on time, she said.
Each year, the Boys & Girls Club of Benton County recognizes one youth whose outstanding contributions to school, family, community and club embody the values of leadership, character, service, academic excellence and healthy lifestyles. The youth also exhibits the ability to overcome personal challenges while excelling in school and personal achievement, Collins said.
Joselin Martinez of the Rogers unit was recognized as Youth of the Year for 2014 at the Youth of the Year Celebration April 2. More than 975 people showed up to celebrate with the teen, noshing on kid-friendly sliders, mac and cheese and Oreos of many flavors.
Martinez also won the 2015 State Youth of the Year award, earning a $5,000 scholarship, which she said she plans to apply toward study as a pediatric nurse. Joselin received the award after overcoming hardship. "Through helping other people and developing relationships with the staff at the club, I was able to help myself," she said.
Martinez will move on to the regional competition. The winner will travel to Washington to participate in a judging process that will determine the National Youth of the Year, Collins said.
Youths of the Months, Junior Youths of the Year, Staff of the Year and Volunteer of the Year were also honored. Participants also took part in a fundraising and cultivation component which provided those attending "an opportunity to invest in the great futures of our youth at Boys & Girls Club," Collins said.
Ronnie Brewer, former Razorback and NBA veteran, spoke at the event. The basketball player is a Boys & Girls Club alumnus and spoke on leadership and character to tie into the theme of the event.
Michelle Gloeckler and Shawn Baldwin of Walmart were the masters of ceremonies.
Sponsors included Walmart and Sam's Club, Unilever, Kraft, Hershey, Mondelez, Johnson & Johnson, Nestle, Mobil1, KNWA, Celebrate Arkansas Magazine, iHeart Media, 93.3 The Eagle and Kix 104.
"The message of the event is recognizing Boys & Girls Club members in the community who are outstanding in leadership and character," Collins said. "This event is a unique event in Northwest Arkansas, and it provides us with an opportunity to celebrate the achievements of our youth each year.
"Boys & Girls Club programs are designed to encourage club members to realize a wide variety of positive outcomes, a strategy for developing the 'whole child,'" Collins added. "When a child enters our doors, they have an opportunity to receive one-on-one tutoring, participate in high-yield learning opportunities or be mentored by a community member."
NAN Profiles on 04/26/2015
Print Headline: Best of the best
Sponsor Content
Comments