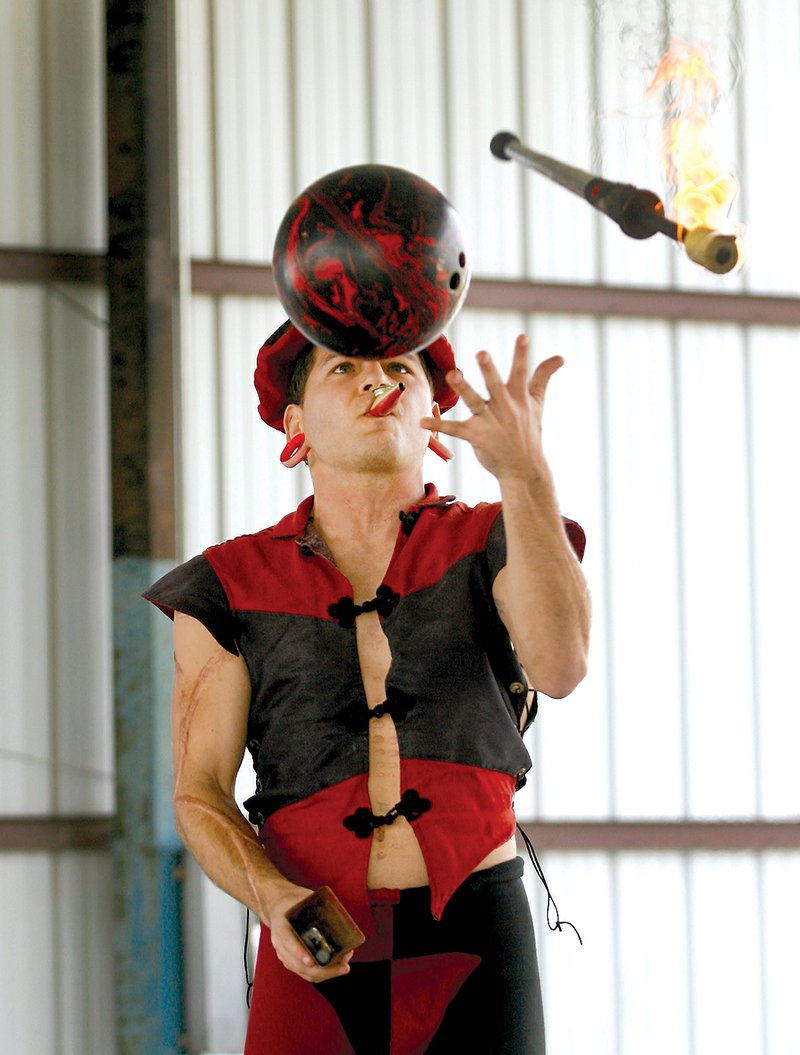 Marie de Guise has made her decision.
At only 21 years old, the young noblewoman has, with her family's urging, agreed to marry James V, the King of Scots.
FAQ
Renaissance Faire of the Ozarks
WHEN — 10 a.m.-6 p.m. today & Saturday
WHERE — Washington County Fairgrounds, 2536 N. McConnell Ave. in Fayetteville
COST — $6-$12
INFO — renaissancefaireoftheozarks.org
Renaissance Festival of the Ozarks cast list
Marie De Guise — Margaret Rivera
Laird McRea — Donald Rea
Sir Francis Bryan — Joseph Jankowsky
Sir Duncan Makenzie — Steve Oler
Lady Ursula Stourton — Feleccia Rea
Lord Lugi — Jesus Rivera
John McClain — Kurt Jones
Lady Dorothea — Jeanne Besaw
Lizzie O'Shea — Elizabeth Lamb
Captain Blackheart — Beverly Wilson
Pandora Lynn Kalderash — Melanie Hayes
Already a widow and mother of two, the Lorraine native hails from the powerful House of Guise, and her union with James will solidify the alliance between the Catholic nation of France and the small, yet powerful, Scotland.
Marie and James had met before at James' first wedding. Upon the death of his wife, James looked to another French wife, and the memory of Marie's beauty and spirit drew him straight to her.
With negotiations completed, Marie left France. She set out across the Strait of Dover and into England with plans to marry James in Scotland the following January.
But all was not as finalized as it seemed for Marie. Another prominent king was also pursuing her hand and was not willing to give up easily.
King Henry VIII of England was also newly widowed, having recently beheaded his second wife, Anne Boleyn. Determined to not allow yet another powerful union between Scotland and France, Henry designed to seek Marie's hand in marriage for himself.
Northwest Arkansans will have the opportunity to take a step back in time and watch the story unfold for themselves this weekend at the annual Renaissance faire. The Tudor-era event will include jousting, merchants and merriment, says Donald Rea, entertainment director of the Renaissance Festival of the Ozarks..
"This year, we will have weavers, potters, lacemakers, live horses and lances and blacksmiths, and we'll also have historical reenactments and an interactive cast," he says. "It's a living history."
The Renaissance Festival of the Ozarks began five years ago with a small group of Tudor enthusiasts who had fallen in love with other RenFaires but felt the long drives might have kept some from experiencing the "magic" of this kind of festival, Rea says.
"My wife and I saw a commercial for the RenFaire in 1997 when we were living in Tulsa and decided to attend," Rea says of the Oklahoma Renaissance Festival in Muskogee. "We rented costumes and became rather addicted. When we came here, we still wanted to be a part of that.
"These individuals do research, they listen to the music of the time, they make costumes, and they come back year after year," Rea says. "They create an environment that is as magical as it is educational."
-- Allison Carter
NAN What's Up on 04/17/2015
Print Headline: Hear Ye! Hear Ye!
Sponsor Content
Comments