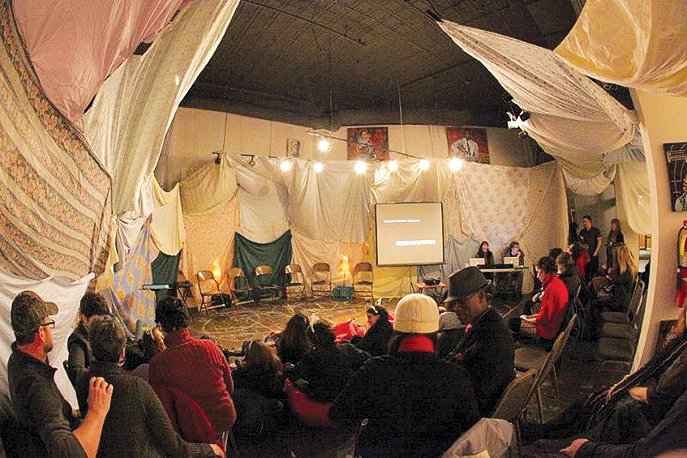 This is not the opinion of the sheet fort. Viewer discretion is advised.
The Artist's Laboratory Theatre is back and setting up shop at the Fayetteville Underground. And like many of the nonprofit's shows, individual performers will be bringing their original form of found theater together under one roof.
FAQ
'I Can Has Sheet Fort'
WHEN —8 p.m. today & Saturday
WHERE — Fayetteville Underground, 101 W. Mountain St. in Fayetteville
COST — $10
INFO — artlabtheatre.com
Sort of.
"The Sheet Fort experience is a pop-up venue that has been showing up in Northwest Arkansas for many years," says Erika Wilhite of Artist's Laboratory Theatre. "It's a very casual and intimate environment. It is a sheet fort, but it is giant."
The theater company traditionally performs smaller-scale found-reading style performances, she says, but the Sheet Fort experience creates an environment like no other.
Along with traditional seating, bean bags will cover the floor. Between 50 and 75 audience members will be able to fit into the space and will have the chance to nosh on stone-baked pizza and juice boxes or drink wine and beer if they give a donation.
The Sheet Fort experience will focus on what the theater does best: found theater, meaning the ensemble cast will perform readings, music and scenes based on items found scattered throughout the area.
"This is what we do -- the found show," Wilhite says. "We have a pretty big collection of scraps of paper, grocery lists, things people find on the ground, Craigslist ads, comment threads. Then we take that and create a show out of stuff that we've scavenged like raccoons that tell a story about the human experience."
These scraps become pieces of art which are re-imagined in unusual, wacky and imaginative ways, she says, and each one is different from the last.
"Before, we did a puppet show that was based on a piece of creative writing done by a middle school girl," she says. "And we made puppets to reenact it. But it's not limited to just to acting. We underscore a lot of things to music and use video and images. It's multi-faceted."
This weekend's show will focus on the Internet, looking at person interactions online and the classic ways individuals are able to connect to one another, Wilhite says. "Through Facebook, Instagram, Twitter and even comment threads, people are able to take part in each other's lives in a way previously unimagined."
But it's not always a positive experience.
"We love the Internet, so our show is a celebration, but it is also a mimicry," Wilhite says. "When you're on the Internet, it can be like going down a rabbit hole. It's so easy to waste time in all these different ways whether you are enjoying a cat video or eavesdropping and being the voyeur in a comment thread board. There's all these different avenues, and they are pretty quick experiences."
These quick experiences and time wasters can also be disruptive, she says, and are always very public.
While writing the piece, Wilhite became interested in a viral story about an interaction between a criminal and sheriff on Facebook, she says. The sheriff's department posted a note to an at-large criminal requesting that he speak with them and turn himself in.
And to their surprise, he did.
"People who knew about this story called him an idiot, but what he thought was private turned out not to be," she says. "His Facebook page was private, but I could still see his friends and family and their pages. It was public, so I was able to go through and watch all of these conversations on the topic as they happened."
Her point, and the point of this weekend's "I Can Has Sheet Fort," is that the Internet isn't private, she says. "You can be in public constantly even when you are not aware of it," she says. "There are repercussions and conflict from being public on the internet."
But regardless of the consequences or conflict that arises from its use, to Wilhite, the Internet is simply a fantastic tool for community building.
"The Internet is an opportunity for us to be together," she says. "Even if it's just ridiculous, like looking at a cat video or meme or photo of your child. It brings us together in an intimate way. I love it!"
NAN What's Up on 04/03/2015
Print Headline: Finding The Fort
Sponsor Content
Comments