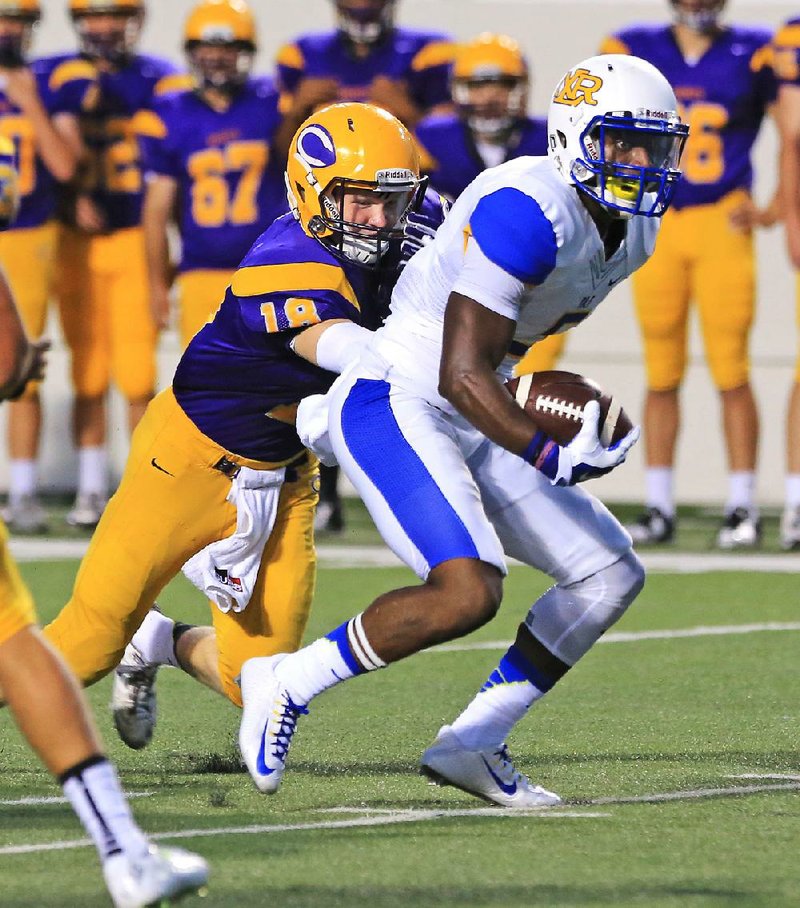 Arkansas Democrat-Gazette/RICK MCFARLAND--09/04/14-- North Little Rock's wr K.J. Hill looks for running room as Catholic's Harper Vondran (18) closes in (7) at War Memorial Stadium in Little Rock Thursday. - Photo by Rick McFarland
A tumultuous day ended with a season-opening victory for North Little Rock.
Heralded senior wide receiver K.J. Hill caught 5 passes for 81 yards and 1 touchdown to help lead North Little Rock over Little Rock Catholic 17-7 in a Class 7A nonconference game before a large crowd Thursday night at War Memorial Stadium in Little Rock.
Senior tailback D.J. Brown gave North Little Rock the lead for good, 14-7, with a 20-yard touchdown run on the final play of the third quarter.
Brown, who played for Catholic as a sophomore and junior, was bottled up in the first half but finished with 83 yards on 18 carries.
Kickoff was delayed 30 minutes after one of three buses carrying North Little Rock players to a pregame meal was involved in a multi-vehicle accident on Interstate 40 at the John F. Kennedy Boulevard exit.
North Little Rock Athletic Director Gary Davis said the accident occurred shortly before 4 p.m., adding none of the 31 players on the bus were injured. All were cleared by doctors to play Thursday night, Davis said.
Davis said offensive coordinator Blake Pizan, who was driving the bus, suffered head lacerations in the accident and was being treated Thursday night at the University of Arkansas for Medical Sciences, which is just east of War Memorial.
Charging Wildcats Coach Brad Bolding said the unexpected turn of events probably played a role in his team's sluggish offensive performance.
"I'm not going to make excuses, but Coach Pizan was involved in the accident and he's in the hospital," Bolding said. "Our offense knew that, and they're teenagers. All those offensive guys were actually on that bus."
The teams were tied 7-7 at halftime, with the Charging Wildcats limited to two first downs midway through the second quarter. North Little Rock's only touchdown came on a 40-yard pass from senior quarterback Heath Land to Hill with 2:34 left in the second quarter.
Following Brown's touchdown run, senior place-kicker Sandy Burks -- without a tee -- extended the lead to 17-7 with a 40-yard field goal with 9:15 remaining in the game.
Land completed 12 of 17 passes for 118 yards. Hill, who has orally committed to Arkansas, surpassed 2,000 career receiving yards on his touchdown reception.
Catholic junior tailback Lance Harville-Thomas ran 23 times for 111 yards. Junior quarterback Andre Sale completed 18 of 29 passes for 88 yards and 1 touchdown.
Behind the pinpoint passing of Sale, Catholic opened the game with a 10-play, 76-yard scoring drive.
Sale was 5 of 5 for 27 yards, including a 5-yard touchdown to senior wide receiver Trey Purifoy with 6:36 left in the first quarter. Senior Michael Williamson kicked the extra point.
"Our defense played great all night," Rockets Coach John Fogleman said. "Our opening drive went exactly how we wanted it to. From there, we weren't as consistent. We had our opportunities."
Sports on 09/05/2014
Print Headline: North Little Rock settles in
Sponsor Content
Comments