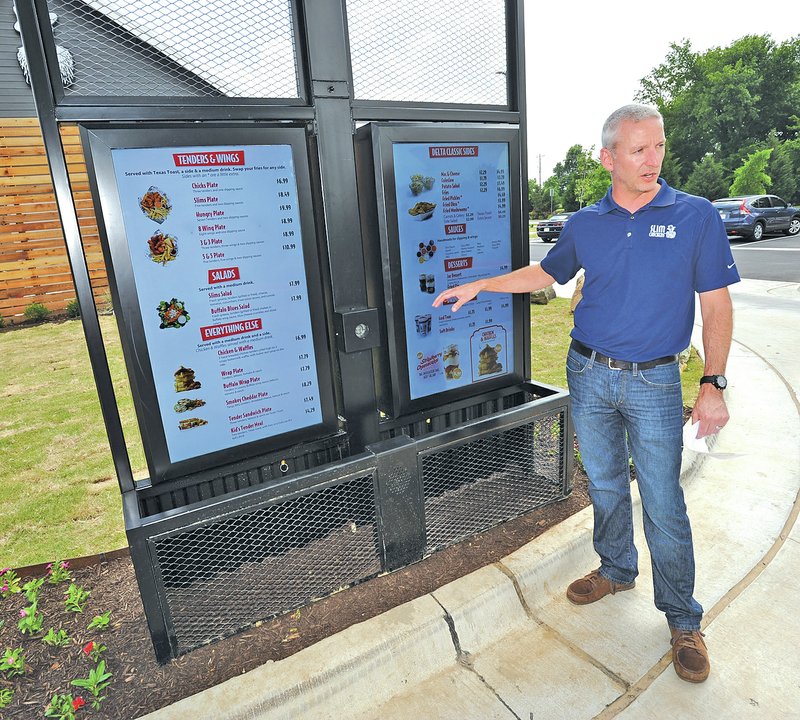 STAFF PHOTO ANDY SHUPE Greg Smart, a co-founder of Slim Chickens, talks about the new digital, cloud-based menu board system the company's restaurants will be employing.
FAYETTEVILLE -- Customers to Slim Chickens' newest restaurant get to test new digital menu boards and custom music -- two things the company's co-founders say will be standard as the Northwest Arkansas chain expands.
The Fayetteville-based fast-casual restaurant chain opened its 14th site -- and fourth in Fayetteville -- Monday at 3562 W. Wedington Drive.
At A Glance (w/logo)
Slim Chickens
Slim Chickens opened its 14th restaurant Monday at 3562 W. Wedington Drive in Fayetteville. The Fayetteville-based fast-casual chain has four restaurants in Fayetteville, two in Little Rock and one in Rogers, Jonesboro, Hot Springs, Conway, Oklahoma City, Norman, Okla.; Edmond, Okla.; and Texarkana, Texas.
Source: Slim Chickens
"We're excited to try this new technology out, especially with our planned growth," said Greg Smart, co-founder and chief marketing officer.
Fast-casual restaurants are a hybrid of fast-food and casual dining. Customers order at a counter and seat themselves, but servers deliver the food to the table. Many also have other features of a typical full-service restaurant, such as music and big-screen TVs.
Slim Chickens' goal is to have 600 stores open across the country. Smart said the first step includes opening more than 20-plus in the next two years.
Some of the new sites will be company-owned, but the bulk will be franchises. Implementing a cloud-based, digital menu board system will help Smart and co-founder Tom Gordon ensure the right information is being displayed across the chain.
"This is what franchisees want. It's easy to use," said Gordon, who's also the company's president and chief executive officer.
The cloud-based system stores data at the company's headquarters and Smart said information can be changed every five minutes. He said the format makes for easy "dayparting," or highlighting specific products at certain times of the day. The boards also allow Slim Chickens to highlight new or limited-time items.
Chicken is the only meat on the chain's menu, but it is served in many ways, from tenders and wings to sandwiches and salads.
"The old way of changing the menu board could be a three- to four-week process," Smart said.
The high-tech menu boards also allow the chain to quickly change prices or add or remove items quickly, he said. If a restaurant is running low on a product it can be removed while other offerings can be emphasized -- think iced tea on a hot day.
The National Restaurant Association reports that nearly one-fifth of consumers said technology options factor into their decisions when choosing a restaurant. Nearly 47 percent of fast-casual restaurant operators indicate they are investing in technology for the customers to see and use.
Slim Chickens gets its cloud-based digital menu system from Delphi Display.
Digital menu boards have been around for several years, but the initial higher cost has been a barrier for some chains. Smart said the digital system costs about five times the traditional boards and it will take about three years for the company to recover its investment. Gordon wouldn't disclose a specific dollar amount.
"We are big enough to be able to afford digital boards but not too big that we have to invest in a lot of restaurants," Smart said.
Some of the country's largest fast-food chains began using digital menu boards in the past few years.
McDonald's rolled out it's McCafe Project in 2011 that introduced more than 12,600 digital menu boards. The chain is now starting to expand digital menu boards in the United Kingdom.
"We continue to modernize the restaurant experience for our customers, which includes the use of digital technology in our restaurants and on our menu boards," said Terri Hickey, McDonald's spokeswoman.
Burger King installed digital menu boards in most U.S. locations in 2012 as part of a re-branding initiative.
Slim Chickens' digital menu boards also extend to the drive-through window. Smart said later this year they will implement "phase 2" of the new-style drive-through service that will feature cameras for face-to-face interaction between the customer and the worker.
Blues music is a staple in Slim Chickens restaurants, and Smart said they took it a step further in their new flagship store in Fayetteville. The chain uses Ambiance Radio, a background music provider for the hospitality industry.
Smart said they use to turn on a blues channel from satellite radio, resulting in the same songs being played repeatedly. The new system provides a broader mix of songs.
Bradley Newberger started Ambiance Radio in 2009 after working in the restaurant industry. He company's headquarters are in Camarillo, Calif.
He said the restaurant where he worked used a 300-song play list repeatedly, meaning employees could set a clock by when they heard certain songs.
"Companies are asking what they can do to make sure they stand out, and music is one of the things they come up with," Newberger said. "We provide music that connects with the brand and creates a positive effect in the room."
Creating the right mix is a scientific process for Ambiance Radio as they preform studies on a restaurant's customer base and surrounding neighborhoods.
The play list is also adjusted to the time of day and time of year.
Newberger said it is also important to give employees a variety of music to listen to throughout the day.
"It's amazing how changing things up can improve morale," he said. "When people feel good it improves everyone's experience."
NW News on 06/21/2014
Print Headline: Slim Chickens Features Digital Menu Boards
Sponsor Content
Comments