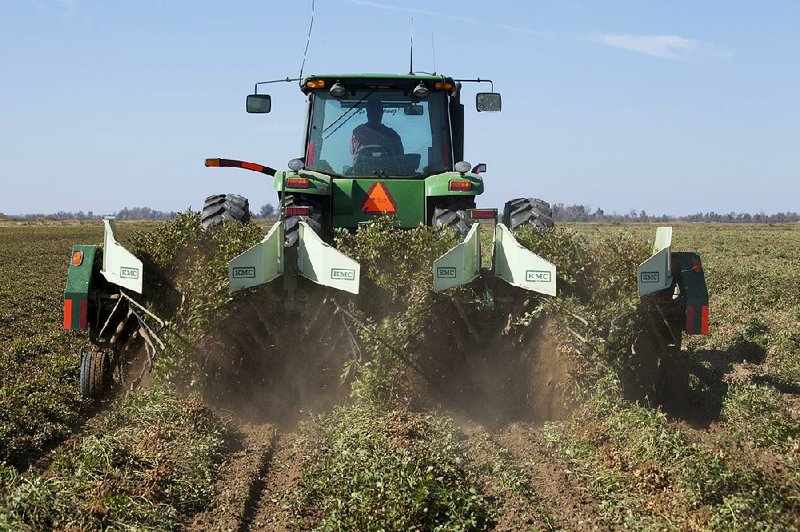 A farmer digs up peanuts in Lawrence County in October 2012 in a photo provided by the University of Arkansas System's Agriculture Division. - Photo by Special to the Democrat-Gazette / KERRY RODTNICK
Arkansas' peanut growers are on the verge of gaining a spot on the National Peanut Board, another sign of how the crop has taken off in the state in recent years.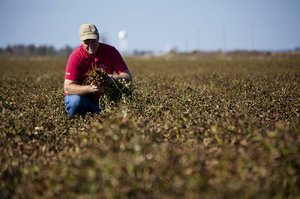 Photo by KERRY RODTNICK / Special to the Democrat-Gazette
Herb Ginn, chairman of the Lawrence County Cooperative Extension Service staff, examines newly dug peanuts during the October 2012 harvest.
The federal Agricultural Marketing Service is soliciting public comments through Jan. 22 on a proposal to add Arkansas to the list of 10 "primary peanut-producing states," giving it a seat on the National Peanut Board.
Since 2010, Arkansas growers, mostly in northeast Arkansas counties, have averaged more than 10,000 tons per year, making the state eligible for seats on the board, according to a summary of the proposed rule, which was posted Dec. 23. Using money from an assessment levied on all peanut producers, the Peanut Board oversees efforts to market and promote peanuts, as well as conduct crop research.
Peanut farming has seen a resurgence in Arkansas over the past several years, with national peanut companies establishing two buying points as production climbed.
Arkansas farmers planted more than 18,000 acres of peanuts in 2012 as farmers took advantage of high prices for early peanut contracts. Acreage dropped to fewer than 12,000 acres in 2013, as peanut prices declined and growers responded to changing market conditions for other crops such as as corn and soybeans.
The farmer-funded board promotes peanuts to consumers as well as supports research into improving peanuts as a crop, said Ryan Lepicier, senior vice president for marketing and communications for the Atlanta-based board.
"The primary mission of the program and the bulk of the money is spent on funding promotional activities to increase demand and consumption," Lepicier said, as well as on efforts to remove market barriers, such as funding research into peanut allergy issues.
The board meets four times a year. Full membership means that Arkansas' farmers will have more say on how money collected by the board is spent, Lepicier said. The board's current budget is $8.69 million, down slightly from the $8.74 million budget in fiscal 2013, which ended Oct. 31.
Arkansas also will be eligible for a share of research dollars that can either be tailored for Arkansas-specific peanut research or pooled with money from other states on broader research efforts. Since 2001, the Peanut Board has provided more than $20 million for more than 900 research projects, Lepicier said.
In its proposed rule, the Marketing Service said that Arkansas produced 1,357 tons of peanuts in 2010, 6,092 tons in 2011; and 38,866 tons in 2012 - for a three-year average of 15,438 tons. At the time of the order, the service said growers in the state had produced at least 11,121 tons in 2013, demonstrating that Arkansas is maintaining production levels of more than 10,000 tons annually.
In 2012, two out-of-state companies established peanut "buying points" where farmers can take peanuts after harvest. Clint Williams Co. of Madill, Okla., established one point in Pocahontas, and Birdsong Peanuts of Suffolk, Va., established the other in Portia, just west of Walnut Ridge.
Scott Bray, plant industry director for the State Plant Board, which is responsible for inspecting and grading harvested peanuts, said that as of Tuesday, growers had produced more than 21,000 tons of peanuts in 2013. Bray said 11,214 tons had passed through the Birdsong buying point and another 8,895 tons were processed at the Clint Williams buying point.
Even if Arkansas acreage devoted to peanuts shrinks slightly, it's likely the state will continue hitting the 10,000-ton production mark, said Travis Faske, a plant pathologist with the University of Arkansas' Agriculture Division.
Faske said about 5,000 acres of peanuts were planted in Lawrence County with another 1,000 acres planted in Clay and Randolph counties.
Faske said the two new buying points will result in Arkansas growers getting financial incentives to grow peanuts that might not be available to farmers in other states.
Kyle Baltz of Pocahontas, a peanut farmer and owner of Baltz Feed Co., serves as an alternate at-large board member representing minor peanut producing states, which includes Arkansas, on the Peanut Board. He was named to the post in 2012. Baltz operates Ag Headquarters Peanut, the commissioned peanut buying point for Clint Williams Co.
Baltz said primary membership on the board for Arkansas will result in access to more of the money paid in assessments by its farmers. He expects peanuts will grow as a rotation crop in the state as farmers become comfortable with the legume and peanut prices remain competitive relative to other crops.
"The fact that we have the ground that can grow some peanuts and the fact that our farmers have adopted it and are able to grow peanuts at a profitable level is just an indication of the caliber of folks we have around here," Baltz said.
A spokesman for the Marketing Service said a specific timetable for Arkansas to join the board was unavailable. Lepicier said that if there aren't any hitches, Arkansas' first member and alternate could join the board in January 2015.
Arkansas plays a relatively small role in the peanut industry, according to USDA statistics.
Nationally, 1.95 million tons of peanuts were produced by the 10 states designated as primary members of the Peanut Board. The National Agricultural Statistics Service reported in December that peanuts were harvested from more than 1 million acres in those states.Georgia was the largest producer, harvesting 881,875 tons from 425,000 acres, followed by Alabama with 234,600 tons from 138,000 acres.
Growers planted 33,000 acres in Mississippi, harvesting 52,800 tons, and 17,000 acres were planted in Oklahoma, resulting in a harvest of 32,300 tons. In Texas, 197,750 tons were harvested from 113,000 acres, the statistics service reported. Other primary states include Florida, New Mexico, North Carolina, South Carolina and Virginia.
Arkansas Agriculture Secretary Butch Calhoun said it is important for Arkansas politically to have a voice on the Peanut Board.
Calhoun said his department sent a letter in support of the proposal this week to the Marketing Service.
"It'll give us more say maybe in national legislation pertaining to peanuts," Calhoun said. "I'm still pretty optimistic that it's going to be a pretty good rotational crop," especially in silty, loamy soils.
The Peanut Board helps lobby to keep crop subsidies in place, he said, and that membership will help Arkansas build relationships with the leaders of other farming states. "It's just good politics to get on there. I don't think we'll ever be a Georgia or anything like that but I think we'll grow some in the peanut business."
Business, Pages 61 on 01/12/2014
Print Headline: State pushes for seat on U.S. Peanut Board
Sponsor Content
Comments