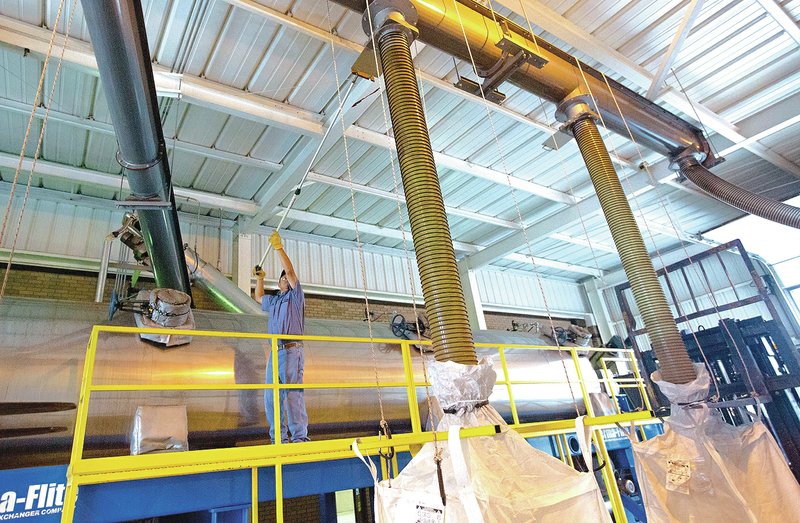 FILE PHOTO Fayetteville and Rogers have facilities to dry sludge, which can then be used for agricultural purposes.
Fans at this year's six Razorback football home games left 94 tons of recyclables, enough to almost fill a heavy-duty railroad boxcar.
"It's mind-blowing," said Robyn Reed, executive director of the Boston Mountain Solid Waste District. The district oversees solid waste disposal in Washington and Madison counties.
Washington and Benton counties face the same challenges when it comes to disposing of trash, said Reed and her Benton County counterpart, Wendy Cravens. The districts and the cities within the two counties are trying to cut costs and divert as much material as possible from the Eco-Vista Landfill in Tontitown.
Efforts to meet the challenge include reducing what goes to the landfill through recycling everything from trash to sewer sludge and perhaps, one day, burning waste for energy.
The landfill, operated by Waste Management, has 12 to 15 years of capacity left and is the only large, general-purpose landfill in Northwest Arkansas, said spokesman George Wheatley of Waste Management. The 110-acre landfill takes in 450,000 tons of waste a year, according to company figures. It serves Washington, Benton and Madison counties.
Eco-Vista is alone because any landfill in this area must cope with the region's karst geology, Cravens and others said. The whole area is a plateau with soil covering a fractured bed of limestone. That broken stone lets water seep through. Anything seeping out of a landfill can get into underground water or rivers.
Landfills in such areas have strict federal and state standards. There are no pending applications for a new landfill in the area, according to the state Department of Environmental Quality.
RECYCLE
The population of Northwest Arkansas keeps growing, but recycling efforts are slowing demand on the landfill, Wheatley said. Most cities offer a recycling program but collect a small amount, he said.
"With some, the amounts are so small that the only things that are really economical to do are paper and plastic," he said.
Waste Management has no overall figure for how much waste is being diverted from the landfill, Wheatley said. Fayetteville's recycling program takes more than 600 tons a year out of the landfill, he said, citing city figures.
Wheatley said recycling would increase if the region had a single facility that sorts material at the site rather than at the curbside as is done in Fayetteville. Waste Management cooperated with Little Rock to build such a sorting facility.
Sorting has to be large scale to be economical at a central facility, but once the scale is large enough, the efficiency of a recycling program takes off, he said.
"With a big, common, true recycling processing facility for the whole region, you can get a worthwhile amount to recycle of almost anything that can be recycled," he said. "Right now, the volume is fractured" in Northwest Arkansas.
"Juice containers, the cardboard ones with the lining, can be an item to recycle if you have enough of them and can separate them," he said. "Aerosol cans are another example. What you're able to recycle grows exponentially if you have enough to set up an automated sorting facility, but that costs $5 million to $10 million, so we're probably talking about $8 million here."
Not everything can be recycled, Reed said. For example, the plastic found in thin-walled butter, margarine and yogurt cups and "what I'd call crinkly plastic bakery container" cannot be recycled, she said.
SLUDGE
The landfill takes in more than items placed in trash cans. Solids collected by Springdale's wastewater system, for example, put more than 20,000 tons of sludge in the landfill a year. That costs about $1 million a year, city figures show.
Waste Management offers the city a very good price to dispose of sludge, said Heath Ward, director of Springdale's water and wastewater departments. The city has studied alternatives and has a fall-back plan if Eco-Vista becomes unavailable. Costs for sludge disposal would at least double if the city used any other option, Ward said.
Fayetteville and Rogers have facilities to dry wastewater sludge, which cuts the weight of the material by two-thirds, Ward said. Drying makes the sludge easier to transport, which in turn makes it possible to ship out of the region as fertilizer. Both cities sell dried sludge.
Ward proposed a regional solution to drying sludge. Northwest Arkansas has more than enough "nutrients," from farm animal waste to fertilizers to solid waste, he said.
If Springdale decides to build one, it could be placed near the Northwest Arkansas Conservation Authority in south Bentonville, he said. That wastewater treatment plant was built by a group of 10 cities in the region as a future, regional facility.
ENERGY
Someday, recycling will not be enough, predicted Cravens, the director of the Benton County Solid Waste District.
"Eventually, we're going to have to get energy from waste that cannot be recycled," said Cravens. Cities in the region have looked at the "old incinerator types of units before, but the technology of 30 years ago is totally different than what they have now," she said.
"Before, power generation from waste was just burning trash," Cravens said. "This new process is gasification. It vaporizes the waste, and the toxins are burned off. You don't need the environmental controls and scrubbers that were needed before to prevent air contamination. There's nothing left."
Although the heat needed is more intense, the process is more efficient, she said.
"Facilities like that are being built in California right now, and have been very successful in Europe," she said.
The technology isn't widespread in the United States because landfills here are still pretty cheap, Cravens said.
NW News on 12/31/2014
Print Headline: Avoiding The Landfill
Sponsor Content
Comments