JONESBORO -- Brock Barnhill used to stand on the sideline at Centennial Bank Stadium and let his mind wander.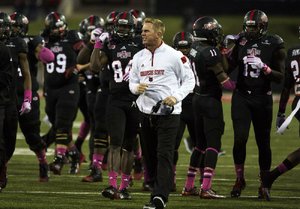 Photo by Democrat-Gazette file photo
Blake Anderson is the fifth head coach in five seasons at Arkansas State. He replaced Bryan Harsin, who left ASU after one season to take the Boise State job.
As a freshman walk-on from Mountain Home in 2010, Barnhill watched the final painful moments of the Steve Roberts era as the Red Wolves finished 4-8, their 16th losing season since moving to the FBS in 1992.
On the dime
Ten fifth-year seniors, who were recruited by Steve Roberts in 2010, will play their final game for Arkansas State on Jan. 4 against Toledo in the GoDaddy Bowl in Mobile, Ala. Their distinction from other groups of fifth-year seniors is they have played for five head coaches in five seasons — Roberts, Hugh Freeze, Gus Malzahn, Bryan Harsin and Blake Anderson. ASU is 35-16 with four consecutive bowl trips.
PLAYER;POS.;HOMETOWN;COMMENT
22;Brock Barnhill;DB;Mountain Home;Former walk-on became special teams contributor
80;William Boyd;WR;Cave City;Walk-on earned scholarship. Caught first career pass vs. New Mexico State this season.
58;Tyler Greve;C;Jonesboro;Started 12 games at center this season
6;Frankie Jackson;DB;Baton Rouge;Played RB and LB (917 career yards, 65 career tackles)
32;Ryan Jacobs;DB;Evans, Ga.;Played mostly on special teams; 11 tackles, 1 fumble receovery
48;Qushaun Lee;MLB;Prattville, Ala.;Fourth all-time on ASU's career tackles list (390)
87;Kenneth Rains;TE;Hot Springs;7 starts; 14-160 receiving, 3 TDs
21;Andrew Tryon;SS;Russellville;24 starts; 149 tackles, 20 breakups, 3 INTs; 10-308 KOR
69;Alan Wright;RG;Cave City;21 starts
11;Sterling Young;FS;Hoover, Ala.;45 consecutive starts: 268 tackles, 151 unassisted; 7-59 INTs; 6-55 FR; 13 BR; 6 FR
NOTE Defensive tackle Markel Owens also would have been a fifth-year senior this season. He was shot and killed at his mother's home in Jackson, Tenn., on Jan. 15, 2014.
At the time, ASU had won one Sun Belt Conference title -- a share of the crown in 2005 -- and had been to one FBS bowl game. A dedicated fan base had become disinterested. Facilities were lagging behind.
"I used to sit here as a freshman and look around and I was like 'I wonder what we can change here before we leave?'" Barnhill said last week. "And I could never come up with anything."
Barnhill and his fellow seniors did more than most could have imagined.
Ten fifth-year seniors who signed to play at ASU when it hadn't had a winning record in 15 seasons will play their final game in the Jan. 4 GoDaddy Bowl against Toledo. In their years in Jonesboro they helped ignite a football program stuck in neutral while also dealing with unprecedented change.
The reasons for adjustments have been thoroughly documented. Coach Blake Anderson is their fifth head coach since arriving in the summer of 2010 and they'll finish their careers having also played for Roberts (2010), Hugh Freeze (2011), Gus Malzahn (2012) and Bryan Harsin (2013).
The only other known team to go through such change at the sport's highest division was Kansas State in 1944-1948, but those teams won just four games through that transition.
If ASU beats Toledo in Mobile, Ala., the class that signed in February of 2010 will have been a part of 36 victories, the second most over a four-year period in school history and the most since moving to FBS.
For their perseverance, and their role in awakening a program in desperate need of a spark, the 10 fifth-year seniors have been named the 2014 Arkansas Democrat-Gazette Sportsmen of the Year.
"It's a miracle on a cotton patch up here," said Larry Lacewell, who led ASU's best four-year run of 37 victories in 1984-1987 while becoming ASU's all-time winningest coach. "They brought a tradition and pride back to Arkansas State."
Lacewell's feelings are echoed by just about everyone who has invested in the ASU football program.
Tim Langford, who was a quarterback for Lacewell in 1980-1983, credited the seniors for restoking an interest of alums and former players that didn't exist in 1992-2009, a period in which ASU averaged less than four victories per season.
"We had a disconnect between the administration, the AD and former players," said Langford, now a Little Rock doctor. "All of the former players are taking ownership and pride within the program. That's the biggest thing -- a lot of pride. I just tell them, 'players like me from all generations, all the former players and alums respect what they've done.'"
Corey Leonard, a quarterback under Roberts in 2006-2009, moved last year to New Orleans, but he still made every home game this season. The Red Wolves' announced attendance for six home games this year was 24,860, the fourth consecutive season it averaged 21,000 or more, the first time in the stadium's history.
Leonard acknowledged that some of the 2012 crowd -- which averaged a stadium record 26,398 -- had to do with Malzahn's notoriety, but that it's not all about coaches with familiar names.
"You don't get excited about those guys that are only there a year," Leonard said. "You almost get it as a motivation to further put the praise back on the players. If there has been excitement around ASU for the last three or four years, people need to kick that back to the players more that anything."
Lacewell and Langford both also made a point to credit Roberts, who convinced all 10 of these fifth-year seniors to sign letters of intent to an ASU program that was struggling.
Roberts' recruiting efforts helped the current seniors play the early stages of their careers with quarterback Ryan Aplin, the school's all-time leader in total offense. Linebacker Demario Davis, now with the New York Jets, and defensive tackle Ryan Carrethers, with the San Diego Chargers, were also brought in by Roberts.
"In this case, when guys leave, or are fired or whatever, they normally leave the cupboard bare," Lacewell said. "In this case, the cupboard wasn't bare."
Nickel back Frankie Jackson has a similar explanation as the other seniors when asked how they maintained through all the change. After a while, he said, it became part of the routine.
Jackson said he remembers talking with Freeze after Roberts resigned about staying, so he did and he never thought about leaving again. Not even when Harsin moved him from running back to nickel back in the spring of 2013 did he think about a change of scenery.
The reason: the other guys going through it with him.
"No matter what came in, it was still, turn to your left, turn to your right and you still have the same players you knew from your freshman year," Jackson said. "It wasn't the head coach, it was the team that I wanted to be a part. It didn't matter that Roberts left, Freeze left, or Malzahn left or Harsin left -- I was still with my team."
Jackson will be for another 11 days, until the ASU program closes its most successful and odd period in the most fitting place of all -- Ladd-Peebles Stadium in Mobile. It will be this class' fifth game at the stadium since Jan. 8, 2012, which includes each of the past four GoDaddy Bowls -- it lost to Northern Illinois after the 2011 season, but beat Kent State and Ball State in each of the past two -- and a victory over South Alabama in a regular-season game in 2013.
As the seniors leave, they'll do so with plenty of victories, more than $40 million of stadium upgrades that are ongoing and peace of mind that they led the program to take positive steps.
"I feel we're leaving it in a lot better place than we found it," Barnhill said. "They've done all these renovations. They've done everything I used to dream about in practice as a freshman."
Sports on 12/25/2014