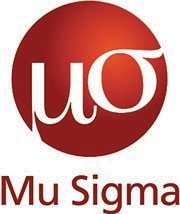 BENTONVILLE -- A Bentonville High School class received a special series of lessons in analytics this semester from a company that specializes in the field.
Mu Sigma, a Chicago-based consulting firm with an office in Bentonville, targeted the school's small-business operations class to pilot an educational program the firm developed for the high schools.
At A Glance (w/logo)
Mu Sigma
Mu Sigma, a decision sciences and analytics firm, helps companies institutionalize data-driven decision making and harness Big Data. The company solves high-impact business problems in the areas of marketing, risk and supply chain.
Source: Staff Report
Mu Sigma proposed the program as a way to introduce students to a rapidly growing career field, said Bharath Upadhya, a regional head for the firm who led the program.
"Colleges are slowly warming up to this. They are starting courses in data analytics," Upadhya said. "But we thought we could go even further. We thought, what if we were to teach this at the high school level and make students at that level appreciate it?"
Bentonville High School was "really responsive" to the idea after Mu Sigma proposed it last summer, he said.
The amount of data in the world has increased dramatically, and the ability to analyze large data sets -- often called "big data" -- will become a key basis of competition, according to a report by the consulting firm McKinsey & Co.
The U.S.could face a shortage of 140,000-190,000 people with deep analytical skills by 2018, as well as 1.5 million managers and analysts who understand how to use data analysis to make effective decisions, according to McKinsey & Co.
That's what motivated Mu Sigma to launch its nine-week program at the high school. About a dozen Mu Sigma employees got involved in lessons in Margot Cowing's small-business operations class, which has 30 students. The program started in mid-October and ended Monday with students presenting group projects.
A recent lesson focused on the importance of putting data in a visual form. Mu Sigma employees offered several examples of how charts and graphs could effectively communicate what a certain set of data means.
One example they showed came from the New York Times. It was a chart comparing Usain Bolt's 2012 Olympic record performance in the 100-meter sprint to every winner in that event since 1896. The chart placed all those athletes on the same track, clearly showing how far each one would have gotten by the time Bolt finished in just 9.63 seconds.
The importance of using data to make decisions, rather than relying on opinions, was one of the main things Mu Sigma wished to impress on the students.
The world is changing quickly. Students need to learn the importance of learning and experimentation, Upadhya said.
"One tangible thing we want them to take away is a framework or a structure to define and solve problems," he said.
Amanda Frenchman, 17, is one of the students in Cowing's class. Mu Sigma's lessons have helped her in many ways, she said.
The aspiring tattoo artist said she's learned how to approach any problem, regardless of its size.
"I really appreciate everything they've done for us," Frenchman said. "It's definitely opened my eyes to different things."
For their group projects, students received a specific problem for which they had to present solutions. One group devised a strategy to determine how a theoretical pizza shop could increase its market share. Another group was asked to consider ways to boost the high school graduation rate in Arkansas.
Sterling Price, senior director of customer analytics at Walmart, was a guest speaker during Monday's class. Analytics is the wave of the future, Price said.
"You can't be in business without having some kind of understanding of (analytics)," Price told the students.
Cowing appreciated the work Mu Sigma had done in her classroom. It helped bring awareness to the importance of being able to solve problems, she said.
"We spend so much time driving kids toward a specific career," Cowing said. "But what they're going to get out of (Mu Sigma's program) is those 21st-century skills. That's what protects you from being eliminated. By exposing students to the business aspect of decision sciences, it opens them up to a variety of career choices."
Mu Sigma offered its lessons at no charge to the school. The firm's hope is the increased awareness of analytics will indirectly impact both Mu Sigma and its clients, Upadhya said.
Mu Sigma was encouraged and excited by the feedback and interest shown by the students, he said.
"We found encouraging feedback from students across the board, and it was clearly reflected in how they presented their projects during the course of the program," he said.
Mu Sigma will consider expanding the program to other high schools, Upadhya said.
NW News on 12/18/2014
Print Headline: Consulting Firm Brings Lessons To Students
Sponsor Content
Comments