The Arkansas State Police trooper arrested Thursday on federal charges is accused of taking drugs from the agency's evidence room and turning them over to a drug dealer, documents show.
Sedrick Reed, 43, a state police lieutenant, was fired Thursday, the same day he was arrested by the FBI on a preliminary charge of possession with intent to distribute and distribution of less than 500 grams of cocaine.
Document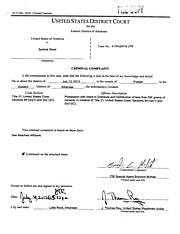 "It's a very sad day when a law enforcement officer violates the public trust," U.S. Attorney for the Eastern District of Arkansas Christopher Thyer said in a statement. "Thankfully, because of the integrity and leadership at the Arkansas State Police, information regarding Lt. Reed's illegal actions was turned over to the Federal Bureau of Investigation to ferret out the dishonesty by one of their own."
According to the formal complaint released Friday, Reed removed cocaine from the evidence room and provided it to 45-year-old Lamont Johnson, who then sold it to a confidential informant who was working with law enforcement.
The document says a federal wiretap captured a conversation last week in which Johnson ordered 9 ounces of cocaine from Reed.
Reed, an 18-year veteran who had "full oversight" over the evidence vault at the state police post in Little Rock, was observed on July 12 going into the evidence room, removing a box of evidence and then returning it a short time later, the complaint said.
"The box had been tampered with as the evidence tape had been cut," FBI Special Agent Brandon McNab wrote in the complaint. "The box originally contained approximately three kilograms of cocaine. Each kilogram was individually wrapped. Upon opening the box agents discovered that one kilogram had been tampered with and only 25 percent of the kilogram remained."
Less than half an hour after Reed left the evidence room, he was observed taking a package to Johnson's home, police said. And Johnson later that day sold cocaine to the confidential informant, the complaint said.
The complaint says Reed took more cocaine Monday and on Tuesday was recorded on a wiretap asking Johnson whether the buyer was "good on that from last week. That deal from Friday."
Reed's termination letter notes the federal investigation revealed Reed has "abused [his] position by taking confiscated drugs from the evidence room."
Reed and Johnson, who was also arrested Thursday, are expected to make preliminary appearances in U.S. District Court on Friday afternoon.
If convicted, each man faces up to 20 years in prison and a $1 million fine.