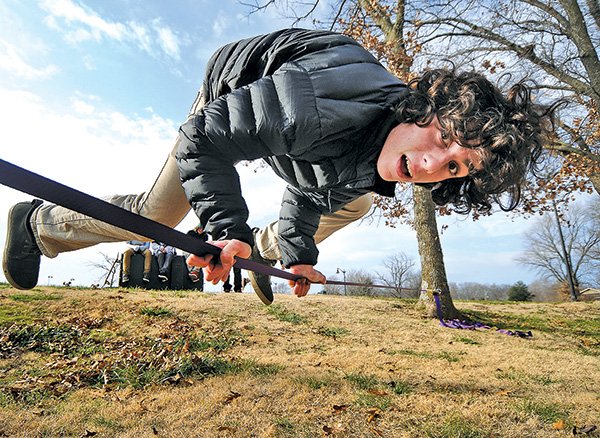 STAFF PHOTO BEN GOFF Zane Signorino, 18, balances on his hands Wednesday while trying out the new slack line kit he got for Christmas at Memorial Park in Bentonville.
Annie Been, Springdale resident and mother of two, said she remembers growing up on the outskirts of town, where she played outside, swinging on vines.
By The Numbers
Arkansas Health
34.5 percent: Adult obesity rate
14.2 percent: Obesity rate among 2- to 4-year-old children in low income families
20 percent: Obesity rate among 10- to 17-year-olds
15.2 percent: Obesity rate among high school students
11.3 percent: Adult diabetes rate
35.7 percent: Adult hypertension rate
Source: fasinfat.org
At A Glance
Outdoor Activities For Children
Note: Some outdoor activities may require parent supervision depending on the activity and the child's age.
Riding bikes
Skateboarding
Hiking
Fishing
Nature scavenger hunt
Play on a playground
Play in a tree house or playhouse
Hopscotch
Play tag
Jump rope
Hide and seek
Swimming
Draw on the sidewalk with chalk
Source: Staff Report
Sponsor Content
Comments