When thousands of motorcycle enthusiasts converge on your hometown for one of the biggest rallies in the country, what's a local biker to do? Some join the fun, others head for the hills.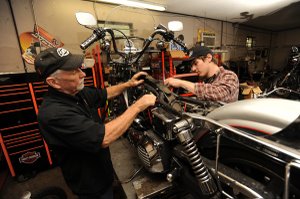 Photo by Andy Shupe
Joe Stevens, owner of Happy Trails Motorcycle Connection, left, works alongside his son, Walt, on Friday as they remove the heads from a customer's motorcycle to make a repair in time for this week's Bikes, Blues & BBQ rally.
Lonnie Young of Farmington, also known as Mud Duck, said most riders will go to some of the Bikes, Blues & BBQ events. The rally runs today through Saturday in Fayetteville, and unofficial events are scheduled through Sunday throughout the region.
Young said lots of local riders tour the byways with friends visiting from out of state whom they met at other rallies. Some don't like the crowds. Young doesn't like the number of inexperienced and "just plain dangerous" riders who show up.
"When Bikes, Blues comes around, I do my best to get the hell out of the area," Young said last week while having some work done on his Harley-Davidson at Happy Trails Motorcycle Connection in Fayetteville.
Other riders who rolled into the shop said they're excited. Several were catching up and talking bikes in the parking lot last week.
"It's a pretty good time, really," said Junior Foster. "I like the party."
"And the bands," added Tommy Pergeson.
"I like the bikes," Emy Brunnel, Foster's fiancee, piped in.
Pergeson said he enjoys meeting new people the event brings to town.
"I guess we're really lucky to live here," Pergeson said. "People tell you how much beautiful riding we've got here. I guess we don't appreciate it enough."
Ariel Ramhayil pulled in on a big red-and-black custom Harley, the fourth he's built himself.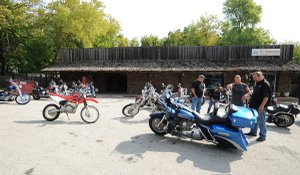 Photo by Andy Shupe
Customers speak with mechanic Bill Bryant, right, Sept 21, 2012, at Happy Trails Motorcycle Connection in Fayetteville.
"Most of the time I'll take the week off since it's here," Ramhayil said. "I live close, so I ride around, go down on Dickson, go to the ball park and the fairgrounds, just taking it easy, watching all the motorcycles and people watching."
Ramhayil said, because he builds his own bikes, he likes to see what others bring to show off.
"I enjoy looking at what other people are building, what they're doing new, the new styles and new paints," Ramhayil said.
For the guys who work on bikes, things are usually a little different during the rally.
"I'm dreading it big time," Bill Bryant said with a laugh while putting the finishing touches on a bike repair in the shop. "It's crazy, and when you're essentially working it, it's not as much fun. Mainly, all I get to see is what's here."
Bryant said there's someone working in the shop until at least 8 p.m. most nights, sometimes 10 p.m. Flat tires are common; sometimes it's worse.
"If somebody rides here, you've gotta help them get back home," Bryant said. "People are usually pretty distraught because their bike's broke. But, you're helping people, and that makes them happy."
Bryant, who's been wrenching on bikes for 20 years, came to Fayetteville for the rally in 2004. He liked the area so much he stayed. Happy Trails specializes in repairing Harley-Davidson and other American-made bikes. Bryant said there are lots of vintage bikes in Northwest Arkansas, and they do quite a few restorations.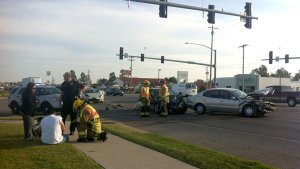 Photo by Greg Harton
Springdale police and firefighters work the scene of a three-vehicle accident Tuesday at Don Tyson Parkway and Thompson Street in Springdale. The collision, at 8 a.m., tied up traffic during rush hour. One person was taken by ambulance to Northwest Medical Center-Springdale with minor injures. The name and condition of the injured person was not available. THREE-VEHICLE ACCIDENT
"The rally really kind of brought me here, but I never get to go anymore," Bryant said.
Joe Stevens, owner of Happy Trails, was working on a bike with one of his sons. Stevens said he spends the weeks leading up to the event making sure locals' bikes are running. Some only ride during the rally, and their bikes sit the rest of the year. Others ride daily and want their bikes running their best for the event.
Stevens was also gearing up for problems. Because of this year's excessive summer heat, blown tires and electrical problems promise to be good for business.
"People come from a long way," Stevens said. "We try to get their bikes put back together and get them home." As far as going to the rally, not so much.
"We just stay buried," Stevens said. "If I get to go over and check it out, it may be at night."
At A Glance
Bikes, Blues & BBQ
The annual motorcycle rally runs today through Saturday at three venues in Fayetteville. Complete schedules of events and music are available at nwaonline.com.
Today
Beer Gardens
Dickson Street: 3-11 p.m.
Baum Stadium/Randal Tyson Track Center Area: 3-9 p.m.
Washington County Fairgrounds/BB&BBQ Saloon: 5 p.m. to midnight
Music
Main Stage (in the parking lot at the corner of Dickson Street and West Avenue)
4 p.m.: Boston Mountain Playboys
6 p.m.: Ruckus
8 p.m.: Mountain Sprout
10 p.m.: The Reverend Peyton's Big Damn Band
Source: bikesbluesandbbq.org