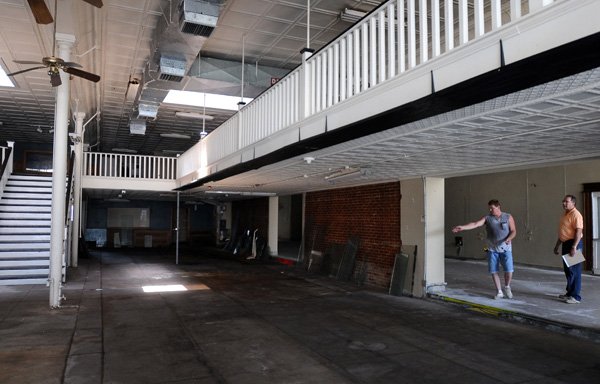 Luis Martinez, left, managing director of Genesis-CMG, talks Wednesday with Larry Collins about repairs he wants made to the old Famous Hardware building at 113 W. Emma Ave. in Springdale. Martinez plans on rehabbing the building and finding tenants for the space. Downtown Springdale Alliance is trying to raise money for a plan to redevelop downtown Springdale. The plan will be used in applying for a development grant. - Photo by Anthony Reyes
The Downtown Springdale Alliance is one vote away from corralling $100,000 to pay for a redevelopment plan.
At A Glance
Springdale Downtown District
The city's downtown district, defined in a land use plan, is bound by Pleasant Street on the west, Huntsville Avenue on the north, Old Missouri Road on the east and Watson, Quandt and Caudle avenues on the south.
The district includes Murphy Park, city library, Springdale High School, Northwest Medical Center-Springdale, City Hall, The Jones Center, Luther George Grove Street Park, Springdale Senior Center, Shiloh Museum, Arts Center of the Ozarks, Arkansas and Missouri Railroad depot and Lee Elementary School. It doesn't include the city's airport.
Source: City Of Springdale
Print Headline: Alliance Nears Goal
Sponsor Content
Comments