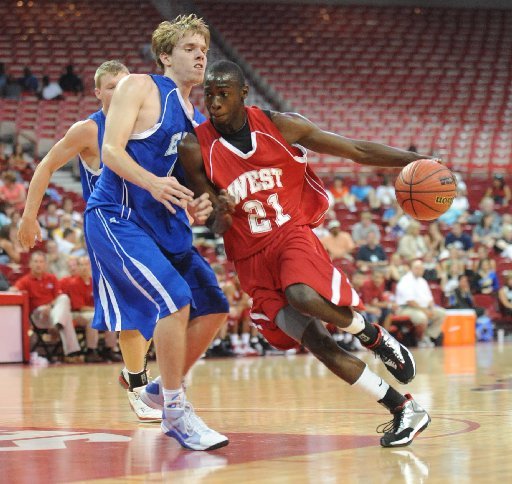 Fred Gulley drives to the basket during the 2009 AHSCA All-Star Game at Bud Walton Arena in Fayetteville. Gulley, who left Oklahoma State last month, has enrolled at Arkansas and hopes to join the Razorbacks' basketball team. - Photo by Andy Shupe
FAYETTEVILLE — Fred Gulley, a former standout at Fayetteville High School, told the Associated Press on Monday he plans to join Arkansas' basketball team.
Razorbacks coach Mike Anderson said there have been no new additions to his team's roster as of Monday afternoon. Gulley is enrolled at the UA for the spring semester, but is awaiting clearance to join the team.
Gulley started 26 games at Oklahoma State, including seven in 2010-11 before requiring a season-ending shoulder surgery. He received a medical hardship for the season and was classified a redshirt sophomore when he left the Cowboys' program last month.
He averaged 4.0 points, 2.5 rebounds and 1.5 assists in eight games this season prior to transferring, playing 18.4 minutes per game.
Gulley will have to sit out a year at Arkansas, per NCAA transfer rules. By enrolling during the spring semester, he will be eligible to play at next year's midterm with two seasons of eligibility remaining, if cleared.
Arkansas fans are well-aware of Gulley, a two-time Gatorade Player of the Year in the state. Playing alongside current Razorbacks walk-on Kikko Haydar, he averaged 16.7 points during a 30-0 senior campaign at Fayetteville.
Gulley is a relative of former UA all-American and current Chicago Bulls forward Ronnie Brewer.
Sponsor Content
Comments