SPRINGDALE — Simultaneous ammonia leaks at two poultry plants this morning sent 10 people to the hospital.
A leak on a freezer line at 9:38 a.m. in the southwest corner of the Tyson Berry Street Plant, 600 N. Berry St., sent eight women and two men to Northwest Medical Center - Springdale. All employees at the plant were evacuated.
Workers went to the hospital as a precautionary measure, said Worth Sparkman, Tyson manager of public relations.
Another leak, at 9:16 a.m., caused the evacuation of about 500 workers from the Cargill turkey plant, 730 E. Randall Wobbe Lane. No one from the Cargill plant went to the hospital.
Photo by Anthony Reyes
Employees of the Tyson Berry Street Plant wait to return to work after an ammonia leak evacuated the building Monday Feb. 6, 2012 in Springdale.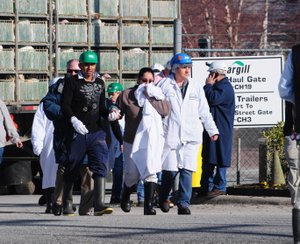 Photo by Spencer Tirey
A plant worker at Cargill Turkey Plant on Randall Wobbe Lane, Monday Feb. 6, 2012, is escorted out of the plant after being exposed to an ammonia leak. Five hundred workers were evacuated from the plant after a pipe broke causing the leak. A Tyson plant was also evacuated after a chemical leak.
Contractor Lyons Refrigeration was performing some standard re-piping work outside the factory when a worker cut the wrong side of a capped pipe, said Shane Acosta, plant manager.
Ammonia is used in refrigeration and freezer units.
"It got big pretty quick," said Heath Ward, plant operations manager.
The Springdale fire department asked for help from several cities. The Lowell Fire Department and Washington County Central Emergency Medical Services responded. Fayetteville and Rogers units were canceled before they reached the sites.
The Tyson leak was under control by 9:55 a.m. with workers returning to the plant by 9:58 a.m. About 500 people were evacuated from the plant that employees 1,300.
The Springdale fire department cleared the Tyson plant for re-entry at 10:20 a.m. The Tyson environmental health and safety team surveyed the plant before allowing work to resume, Sparkman said.
All functions of the plant resumed by noon, Sparkman said.
The 10 Tyson employees in the hospital were in stable condition and will be kept overnight, said Pat Driscoll, spokesman for Northwest Medical Center. Their symptoms included lung and eye irritation.
Workers at the Cargill plant were evacuated as a precaution, Ward said.
About 600 people are in the plant on a typical morning, Ward said. About 100 stayed inside the plant in areas that were not affected by the leak.
Workers milling about in a parking lot across the street from the plant said they smelled ammonia and were told to leave the plant. One woman sat on a curb, wrapped in a sheet coughing while co-workers comforted her.
Employee Cody Whittle said workers were told there had been an accident and they should go home.
"You can still smell it," he said.
His shift started at 5:30 a.m. and usually goes to 2:45 p.m.
About 100 workers were sent home by noon, Acosta said.
"We sent our first-shift primary processing home. Their shift was going to be over at 2:30 and by the time we got everything cleaned up it was going to be to late for them to get back to work," he said.
He said workers sent home would be paid for their hours worked, and would make up lost time in coming days.
"We have to make up the lost production," Acosta said.
The regional HAZMAT team was delayed several minutes by a train that was blocking Randle Wobbe while switching cars. The crossing is adjacent to the Cargill plant.
Ward said he was not sure how much ammonia escaped. That will be determined with help from the Arkansas Department of Health in coming days.