BENTONVILLE — Follow this post for updates from the opening of the Crystal Bridges Museum of American Art.
Photo Gallery
Crystal Bridges Opening Day
The Crystal Bridges Museum of American Art in Bentonville opens to the public today. The opening begins with ceremonies and performances in downtown Bentonville, and the museum opens to public for the first time at 12:30 p.m.
Moshe Safdie
Watch Video
Alice Walton
Watch Video

Bill Clinton
Watch Video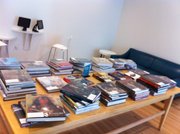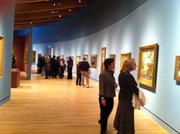 3:11 p.m. update Things are settling down at the museum, and we're going to stop posting live updates unless something unexpected happens. A couple of more videos from the opening ceremonies to come, and look for a gallery of opening day photos.
Thanks for following our coverage of opening day at Crystal Bridges.
2:31 p.m. update We're just getting details about attendees for the weekend. About 1,000 came to the opening ceremonies on the Bentonville Square. For today's opening, 4,236 tickets were reserved. There were 2,668 booked for Saturday and another 2,588 booked for Sunday. Adding the number of members who visited before the museum's official opening date, 16,825 will pass through Crystal Bridges between Nov. 9 and Nov. 13.
2:01 p.m. update Some more previously unannounced works include pieces by Everett Shinn, Thomas Hart Benton and Grant Wood. Also some by Jasper John, Edward Hopper and Andrew Wyeth.
Kevin Kinder's almost made it through the museum now, so the updates will probably start slowing down. We'll continue to post video from the dedication ceremonies.
1:25 p.m. update We were expecting some surprises in the collection, and there are some. A second work by Thomas Moran, several by John Singer Sargent and one by Albert Bierstadt.
1:23 p.m. update Docents are asking visitors to stay at least two feet and preferably three feet away from the works of art.
1:18 p.m. update Adam Campbell of Fayetteville had one of the first admission tickets. He says that in book, it's easier to look away — in real life he can take as much time as he likes.
1:12 p.m. update The northernmost of the museum's two ponds has water. The southern pond does not have water. Architect Moshe Safdie said plans to have both ponds filled for the opening were hampered by the recent rainstorm. Filing the second pond could take a couple of weeks, he said.
12:52 p.m. update There's a crowd of more than a dozen gathered around "Kindred Spirits."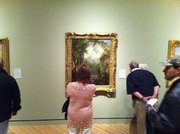 12:40 p.m. update Alice Walton is touring the museum with John Tyson and high-level museum staffers.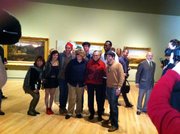 12:37 p.m. And we're back online, now reporting from a meeting room at Crystal Bridges. The first guests entered the museum about 8 minutes ago. Kevin Kinder is touring the museum too, and he'll be providing updates as he goes.
Video of the opening ceremony coming soon.
12:02 p.m. Ceremonies on the square are wrapping up. Now a short intermission while we scramble to the museum.
11:57 a.m. updateAnd now a thriller-style video presentation. Starring Don Bacigalupi and Alice Walton. Big laughs. And streamers in the crowd at the end. Crowd favorite.
11:54 a.m. update Walton: It was Helen Walton's dream the family land would be used for something special, she says as she closes her remarks.
11:51 a.m. update Walton is "touched" by the 5,000 museum members. She also thanks Safdie for "the most beautiful building I've ever seen."
11:50 a.m. update Walton on the museum's core values: Transforming lives, engagement with the art, education and hope for the future.
11:48 a.m. update Alice Walton, upon taking the stage, gets a warm and lengthy standing ovation and round of applause. "This is it!" she exclaims. "It's 11/11/11."
11:47 a.m. update Bacigalupi "Our collection represents her (Alice Walton) deep Arkansas roots."
11:43 a.m. update Bacigalupi, on architect Moshe Safdie: "They have effectively integrated art and nature" into something that can be enjoyed by all.
11:38 a.m. update Native American recording artist Joanne Shenandoah offers a song to the crowd. She also praises the strength of the Native American art contained inside the museum.
More Crystal Bridges News
Visit NWA Media's special Crystal Bridges section for more news, video, slideshows and interactive maps and timelines.CLICK HERE
11:34 a.m. update A video of former president Bill Clinton is playing. He said he celebrates the museum "both as an Arkansan and an American."
11:33 a.m. update Museum Executive Director Don Bacigalupi is now onstage. He said the museum is looking forward to celebrating many more important American dates in the future.
11:28 a.m. update Leona Mitchell, a Grammy-award winning vocalist who has performed with the Metropolitan Opera, offers the "Star Spangled Banner."
11:24 a.m. update Now taking a moment to recognize veterans and active duty members of the military. Applause all around. 3rd grade class leading Pledge of Allegiance.
11:19 a.m. update Col. Troy Galloway, who is also a Bentonville city employee, takes to the stage. "I can think of no place I would rather be today."
11:13 a.m. update McCarty: "Let us remember those who need to be remembered."
11:10 a.m. update H.D. McCarty leads the crowd in thanking God for the weather and in remembering the sacrifices of veterans before offering the invocation.
11:04 a.m. update An offstage bagpipe now offers "Amazing Grace."
11:01 a.m. update A banner flanking the stage reads "America's Next Great Museum is HERE." The choir has started their fifth song of the morning.
10:54 a.m. update U.S. Senator John Boozman is also among those in the crowd. It's a little breezy here, and the wind is whistling through the microphones of the choir.
10:48 a.m. update And the ceremony begins! The Bentonville High School Chamber Choir opens the event in song.
10:44 a.m. update Rep. Steve Womack is on scene. Looks like we're getting started.
10:38 a.m update The opening ceremony has yet to start, but the crowd is still arriving. Museum deputy director Sandy Edwards on the importance of this day: "It's been a long time coming."
10:31 a.m update Arkansas Attorney General Dustin McDaniel is among those in the crowd waiting the opening ceremony.
10:20 a.m. update Some veterans in uniforms are also present, and there are plenty of American flags flying. The stage is set up in front of Arvest Bank on the north side of the square. On the sides it says "America's Next Great Museum Is Here."
10:13 a.m. update At the Bentonville square now. It's starting to fill up, especially with camera crews. Don Bacigalupi, the museum's executive director, was walking around the square a few minutes ago.