FAYETTEVILLE — Construction teams worked frantically on a hot morning early last month. They ripped at old carpet, hoisted steel railings and drove saws through wooden planks. Hammers sounded from all directions.
They were readying EcoModern Flats, a sustainable living complex in downtown Fayetteville, and there was much work to be done.
Floods that swept the South in April had slowed renovations, so the trellis system, swimming pool and new office were all in stages of incompletion.
Chris Baribeau, the chief architect at Modus Studio and designer of the complex, watched the construction from a secondstory catwalk.
"The plan is to have everything done by August," before the fall semester when the town is again flooded with students, he said.
Booked Up
Despite the delays, every room in the incomplete complex is booked. More than a month before its official opening, renters had already snatched up all 96 apartments, said property manager Oubab Khalil.
The immediate popularity of the complex is rooted in itsutilitarian image - EcoModern Flats enforces strict sustainability measures, so it attracts young professionals and graduate students who recycle, ride their bikes to work and grow their own vegetables.
"What I love about this project is that we don't have to compromise the style of living.
It's really urban, hip, upbeat, and at the same time it's very sustainable," Khalil said.
"There are so many creative people, artsy people, fashionable people, cool people there," said Josh Clemence, one of the first tenants who moved to the Flats early in its construction.
Clemence, a 24-year-old architecture graduate of the University of Arkansas, is typical of EcoModern's tenants. He said he loves to know "that there are gardens everywhere, or that the water is heated by solar panels, or that the toilet flushes with more or less water depending on which way you turn the handle."
Everything at the complex is recycled. Two towering cisterns collect rainwater to irrigate the community garden, where tenants are encouraged to grow flowers and vegetables. The walls are filled with drywall and insulation made partially from locally grown soybeans. "Literally, you could eat it," Khalil said.
The complex is already the state's first and only housing project certified as Platinumby Leadership in Energy and Environmental Design. It's the highest honor awarded by the national green-building initiative.
"There's no other apartment complex around here that even remotely scratches the surface of the sustainability issues that are being addressed here," Baribeau said.
But Stephan Pollard, who has managed Maple Street Apartments since 1999, disagreed.
"We were taking sustainability measures way before that. Maple Street Apartments is probably the first one to start that in Fayetteville."
Maple Street shares much in common with EcoModern. Both complexes are smoke-free and stock units with Energy Star appliances. Both coat their wallswith non-toxic paint. Both boast expansive recycling programs.
"My intuition tells me that the prospective tenant is willing to pay a little more for these attributes, especially if they're convinced that it saves them on the utility bill," Pollard said.
For apartments like these, the line between saving the environment and selling the idea to young, well-to-do tenants can become blurred, he said.
"You'd have to do a lot of number crunching to see how $725 accounts for sustainable living," Pollard said. He was referring to the starting rent at EcoModern, but it's actually $750 - nearly double the starting rent at Maple Street.
"We've tried to address the affordability of sustainability," he said. "Because what happens to the workforce demographic when it's that expensive? They get pushed out, and that's not fair. They deserve the chance to live sustainably, too."
Pollard said that his apartments, along with EcoModern and Treadwell Institute at 706 W. Treadwell St., are the leaders of sustainable living in Fayetteville, which leads Northwest Arkansas in green building.
Regional Approach
The region, as a whole, is becoming more greenminded. Gatherings like this year 's REALg reen Conference and Northwest Arkansas Green Development Workshop are becoming more common, and the region is slowly earning a reputation as "the green valley," contractors said.
A March news release by LEED ranked Arkansas eighth in states with the most green buildings per capita. Besides South Carolina, it was the only Southern state in the top 10.
"Fayetteville is pretty far ahead in the South, but far behind when you look at the East or West Coast," Baribeau said.
One hurdle is that the city does not collect recycling from apartments.
"Every complex's accessibility is different," Pollard said. "Lindsey Properties are a verydifferent environment than these independently owned apartments. How do the trucks get in there? Where do we put the containers?"
To remedy the problem, EcoModern Flats began its own large-scale recycling program, a Fayetteville first, said Jeremy Hudson, the president of MC3 Multifamily, which manages the property.
"Because we feel so stronglythat we need to recycle, we'll basically be doing the recycling contractor's job for them by taking it to the city ourselves," he said.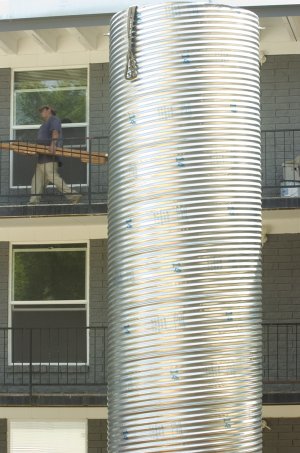 Photo by J.T. Wampler
A pair of cisterns will contain rainwater to be used for watering the landscaping at EcoModern Flats in Fayetteville.
Hudson, who manages a handful of complexes throughout Northwest Arkansas, said they all make efforts for energy efficiency and waste reduction. But EcoModern is more extreme.
"Things that might becost-prohibitive at other properties" - like all-natural cleaning products or organic house paint - "are required at EcoModern Flats," he said.
That means sustainable living is required of every tenant, even if he or she didn't move there for that purpose. The same goes for Maple Street Apartments, where recycling is part of the lease agreement.
"It was definitely a new concept that I didn't know how I would handle at first. It was all really new to me," said Megan Burkes, Clemence's fiancée, who moved to the complex in February. "But now that I'm here, I absolutely love it."
Burkes, a recent art graduate from the University of Arkansas, said the apartment's sparse design forced her to get rid of many belongings. "It's been really good to simplify," she said.
The EcoModern aesthetic is stylish minimalism. "Kind of a museum concept - everything's white, except for a few splashes of color," Baribeau said.
Burkes said the design was her favorite part of her apartment, apart from its proximity to Dickson Street. "It's all really sleek. I love how the apartment is bright and airy," she said.
Deep window sills double as shelves and cabinet door handles are subtle to the point of invisibility. The wafer-thin heating units, painted as the walls, blend completely.
"You can't even tell what it is," Burkes said of her apartment's heater. "Myparents were here yesterday and they were like, 'What is this?'"
If sustainable living is to become integral to the region's infrastructure, something beyond niche or aesthetic preference, thenapartment managers must take the initiative, Pollard said.
"The more complexes that get involved with stuff like this, the more it approaches a new norm. It takes first adopters to get that going."