Hundreds Honor Gwatney
Watch Video

Police chase video of Gwatney shooting suspect
Watch Video
LITTLE ROCK — A year after her father was murdered, Christian Gwatney-Baker continues to go through "absolute living hell."
At 48, Bill Gwatney was in the prime of his political and professional life, a well-known car dealer and former state senator from Jacksonville. Today, Gwatney's family still struggles to deal with his unexpected death.
"For I don't know how long, I just sat in the chair where my dad used to read, and I just sat in it all day," said Christian, 26. "I wouldn't talk much. I wouldn't eat much. One day, my husband and I were at Wendy's. I just had a huge fear. I was scared someone was going to come in and I'd get shot. I said, 'We've got to go.' I can't explain the paranoia.It's exhausting."
When Bill Gwatney of Little Rock, chairman of the state Democratic Party, was shot at the party's headquarters on Aug. 13, 2008, he left a wife, two daughters, a former wife, a mom, a dad and a brother.
His widow, Rebecca, for months avoided the room where she and Bill watched TV - she in an oversized chair, he on a couch.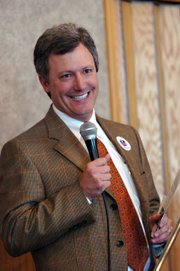 "Now, it's comforting," she said. "I don't lie on the couch, but I look over there and see him lying there."
Chase Gwatney, 20, Bill's other daughter, said that whenever she talks to relatives on the telephone, she first asks if everyone is still alive.
She regrets that she never had a chance to give a piece of her mind to her father's killer, identified by police as Timothy Dale Johnson, who died in a gunbattle with officers in Grant County hours after Gwatney was shot.
"I would like to take him on a journey of my day," Chase said. "Laundry is hard for me. School is hard for me. Making my bed is hard for me. Getting out of bed is hard for me. Going to bed is hard for me. Brushing my teeth is hard for me. Taking showers is hard for me. The list goes on."
For Harold Gwatney, Bill's father, the death has been more than an emotional tragedy. He's the executor of his son's estate.
A few months before Bill died, Harold had retired. Now almost 80, he's running three car dealerships and handling Bill's personal finances, making payments to Rebecca and Bill's exwife, Kathy, and paying bills for Chase and Christian.
"I'm probably working harder than I ever had in my life," Harold said.
Bill's mother, Syble, said she and Harold don't get along as well since their son was killed.
"We're both more short-tempered. We're stressed," Syble, 78, said. "I'm so angry at this person [Johnson]. One day, I said, 'If I knew where he was buried I'd dig him up and beat him.' My husband looked at me and said, 'Have you lost your mind?'"
Little Rock police have said they found no connection between Johnson and Bill Gwatney, no motive for the shooting.
Johnson, 50, scrawled graffiti on the Target store in Conway where he worked, went to his home in White County, grabbed three of his 17 guns, then drove to the Democratic Party headquarters.
He insisted on seeing Bill Gwatney about problems in White County and was allowed into the chairman's office. Gwatney stood to shake Johnson's hand. Then, at 11:49 a.m., Johnson shot Gwatney in the chest, the neck and the head.
Johnson fled. He drove a few blocks down Capitol Avenue and threatened employees at the Arkansas Baptist State Convention before fleeing again.
Police chased him along Interstate 530 to Sheridan. When he got out of his pickup armed, police shot him six times.
Bill Gwatney wasn't scheduled to be in the office that day. He had planned to play golf but canceled. He wanted to sign some letters and checks before going on vacation the next day with his wife.
The Gwatneys have accepted that they will probably never get the answers they want. For the most part, they're glad there wasn't a trial.
Rebecca, 45, said any answers that might have emerged from Johnson would have been "absurd or demented" and would have made things worse.
"I do not feel any hatred or dislike toward the man who did this," Rebecca said. "I feel nothing for him and haven't ever. To me, he wasn't even a person."
She won't let Johnson detract from her memories of Bill.
When Bill entered her life, she "just saw him as Bill, someone I enjoyed doing things with. He'd come over in shorts and T-shirts.He was just a man getting back to his roots, wearing jeans and having a good time."
Worried that someone else would beat him to it, he proposed to her on Aug. 12, 2007. Two days later, he gave her an engagement ring. They were married Nov. 17, 2007.
"On Aug. 12, 2008, he said to me, 'Remember it was a year ago I asked you to marry me. Would you do it again?' I said, 'Yes, would you?' And he said, 'Everyday, forever.' Those words are ingrained in my mind forever. The next day he was killed."
Two days after the shooting, exactly a year after Bill took her to the jewelry store for her ring, she was picking out a funeral suit for him.
Rebecca lives in the house she shared with Bill in the Chenal Valley neighborhood of Little Rock. She doesn't want the house to be a shrine to her dead husband. She likes the first floor being "neutral," with only a wedding picture of Bill.
The family room is different. A huge framed portrait of Bill, a gift from the Democratic Party, dominates a bookshelf filled with reminders of Bill.
There is a model Trans Am signed by Jay Leno during a GMsponsored trip for dealers to the entertainer's house; a list on a framed napkin of all the vacation spots Bill wanted to take Rebecca to; a picture of the couple at a baseball game; a black-and-white photo from the 1980s of Bill with Gov. Bill Clinton at a ribbon-cutting ceremony in Jacksonville; a congressional resolution honoring Bill signed by U.S. Sen. Mark Pryor.
A large flowery jigsaw puzzle is on a table. Bill and Rebecca's daughter from a previous marriage put it together.
Rebecca appreciated the way Bill treated her children, Zac, 13, and Emily, 11. He loved taking them out for late-night ice-cream treats at Sonic.
When Bill was shot, she was home, packing for the vacation planned with Bill to Sea Island, Ga. Then she got the call.
"There's been an accident," a friend told her. "You need to go to UAMS."
Had Bill been in a car accident? she asked. He was "always messing with that silly iPod" in the car.
The friend said, no. Bill had been shot.
"I froze and screamed," Rebecca said. "It was just a deep paralyzing thing. My kids started screaming and crying."
At UAMS, she thought she was going to have a heart attack. A doctor gave her a Valium and told her there was nothing they could do. They would keep him on life support until his parents arrived from Memphis.
Bill was moved to a room where friends and family could see him.
Gov. Mike Beebe was there. So was Pryor and Attorney General Dustin McDaniel. Bill's ex-wife, Kathy, was there with Christian. Chase was living in Florida at the time.
"Bill's feet were cold," Rebecca recalled. "I asked for a blanket for his feet. He doesn't like for his feet to be cold. The doctor said he can't tell they are cold. I said, 'I know how cold they are, and I know he doesn't like it.' They gave me a heated blanket and wrapped it around his legs."
Bill's brother, Russell, who managed the family auto dealerships in Memphis, later arrived. Then came Harold and Syble.
Christian remembers seeing her dad wrapped up in sheets.
"I couldn't even tell it was him," she said. "His toes were sticking out. I put my fingers between his toes like he used to make me do."
The thought made Kathy, Christian and Chase laugh during an interview at a coffee shop in Little Rock.
"It made his toes feel better, I don't know," Kathy, 50, said, smiling, explaining one of Bill's "quirks."
Bill was declared dead at 3:59 p.m.
Former President Clinton was among the hundreds of people at Bill's funeral at Pulaski Heights United Methodist Church.
He was remembered as a man of immense business and political talent, someone with a bitingsense of humor who told people exactly what he thought. But friends and family also described another side of Bill. He was someone who, while confident in his abilities,was somewhat insecure, always wanting to know what people thought about him. He loved to help people and inspired loyalty among his employees. He doted on his family.
For a few months after his death, Rebecca sought counseling. Now, she seeks comfort from new friends, first lady Ginger Beebe and Mariah Hatta, the party's executive director and one of the witnesses to the shooting.
Rebecca rarely goes to church.
"A lot of things like that don'thave the meaning they used to," Rebecca said. "You used to believe so much, and now you question things. I hope I see Bill again, but I'm not sure about that. I don't know how that would work."
Last week, she asked Hatta to take her to the party's office. Rebecca hadn't been there since Bill died.
"They haven't replaced his chair, so I sat in it," Rebecca said. "I could kind of picture it all. I felt closer to him."
Days before Bill died, she resigned from her job as an insurance claims adjuster. Bill wanted her to be available for political trips and for vacations, and she was happy to do it.
She recalled an argument they had early in 2007 after Beebe asked Bill to be party chairman. He would be out of town a lot. He sometimes exhibited a lack of "balance" - getting so focused on things he forgot other responsibilities.
"Don't ask me to choose between you and politics," Bill told her.
"OK, then, I think you should go home," Rebecca said.
Bill left but called later that night.
"You know, I would have chosen you," Bill told her. "But I didn't want to. I wanted to choose both."
What would the political future have held for Bill? Rebecca said she can't say definitively whether he would have run for office again. Bill often went back and forth on various ideas. But her instinct tells her that he would have challenged Lt. Gov. Bill Halter in the 2010 Democratic primary.
She went back to work 13 weeks after Bill's death. She missed the camaraderie at the insurance office and needed something to keep her busy.
"I'm tired of feeling sad when I get up in the morning and go to bed every night," Rebecca said. "I feel better, but you can't make it stop. You can adapt. I don't dwell on it as much. It's mental preparation. I can think about it and get all worked up, but I choose not to. That's not where I want to be. I can't live that way."
Since Bill died, Kathy now displays old family photographs with Bill. They had been packed away.
"I lost my best friend when we got divorced, and it's like I lost him all over again," Kathy said.
Syble likes to call her son's cell phone to get his voice mail, which is still active.
"This is Bill Gwatney. Please leave a message. Thank you. Bye," the voice says.
It makes her happy.
"I just listen to his voice, like I always did, tell him I love him," she said.
She resents politics because that's what led him to be at the party headquarters that awful day a year ago.
She hopes Bill isn't somewhere watching her.
"Heaven is supposed to be a happy place," Syble said. "If he's watching me, he's sad."
Even though Harold founded the dealership that Bill ran, he had to buy stock from his son's estate to meet GM ownership requirements.
"Being the executor of your son's estate, it's something no one expects to be doing," he said. "It's kind of hard to get into all of his personal things. It brings back memories. Bill had a good life, but he had a lot of complications when you've got several companies and accounts. It's been very difficult to manage all the balls in the air. In some cases, I've been his banker. It doesn't mean he's not worth it."
He laughs about requests for money from his grandchildren and sometimes doesn't know how to react.
"I raised two boys; I didn't raise girls," he said.
He often golfed with Bill and older son, Russell, 57. Now, if Harold or Russell hits a good shot, they say, "That one's for Bill."
Harold and Syble live in North Little Rock now. On the way to Jacksonville, he frequently stops by his son's grave at Rest Hills Memorial Park. There are new flowers on the grave every couple of weeks. He suspects it's from one of Bill's former dealership employees.
Chase has many of her dad's facial features, his smile, his eyes. She calls herself the "girl Bill Gwatney."
Like her grandmother, she frequently calls her dad's cell phone.
Christian still hates Wednesdays. It was the day her father died. Her wedding Jan. 17 wasn't anything like she thought it would be when she was growing up.
Before changing into her wedding dress, she walked around outside the church in 18-degree weather without shoes on, wearing the pair of medical scrub pants her father wore in the hospital when she was born.
"I had to walk down the aisle without my dad," she said, tears forming in her eyes. "My dad was like my hero."
She rejected offers from her mom and her grandfather to escort her.
"It was never going to be OK without Dad," Christian said. "And if he couldn't be there then so be it. There are pictures of me before the wedding, and you can tell how much pain I was going through because my dad wasn't there."
She used to go to Razorback football games with her dad. If not, they would talk on the phone after the games.
After a game last fall, she called her dad's cell phone number, left a message.
"The next day I woke up so mad because he didn't call me back," Christian said. "For a moment, I thought maybe if I call he'll answer. He was still alive in my head. But he can't call me back."
Front Section, Pages 1, 8 on 08/13/2009